Iris scans as ID grow in use
Smartphones, ATMs and autos envisioned as prime candidates for iris scan tech as ID verification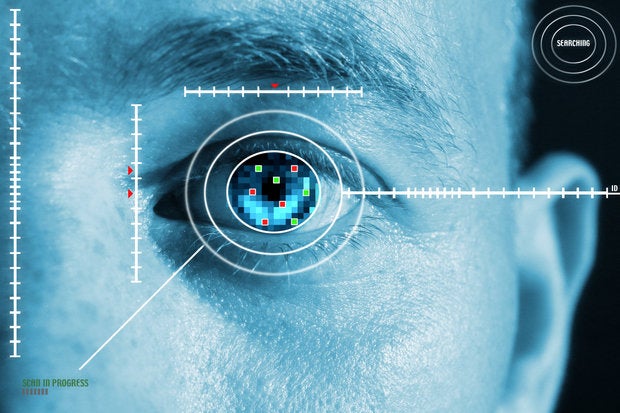 Iris scanner technology is emerging in smartphones, including the new Samsung Note 7, but is expected to come soon to cars and ATM machines to verify a user's identity.
Experts say an iris scan can be more reliable than a fingerprint scan, which is a big reason it is expected to be used in more devices in coming years. Each iris, the colorful part of the eye that forms a ring around the pupil, is unique and therefore a good biometric indicator.
Samsung's Android 6-based Note 7, which shipped on Aug. 19, takes advantage of the technology as well as the Windows 10 Mobile-based HP Elite X3.
In the Note 7 and other iris scanning phones, a special front-facing camera sensor and an infrared sensor are used to take a series of video frames of a user's iris. Then, software looks at hundreds of points in the scan from various video frames to determine if that person is the authorized user before unlocking the device. A user can customize which of the phone's features, such as Secure Folder, will also require an iris scan for entry.
Samsung has also preserved the use of passwords, keyboard patterns and fingerprint scanning on the Note 7, partly to give users a choice.
Some reviewers have noted that the Note 7's iris scanner is not as reliable as its fingerprint sensor, partly because it is hard to do scans in direct sunlight or when the user is wearing glasses or colored contacts.
The Note 7 and Elite X3 were not the first phones to use iris scanner technology. More than a year ago, Fujitsu included an iris scanner on the Arrows NX F-04G smartphone, sold by NTT Docomo only in Japan.
That phone as well as a later Fujitsu smartphone model and a Fujitsu tablet all took advantage of iris scanners. All three relied on intellectual property for iris scanners called ActiveIRIS from Delta ID, a startup of fewer than 20 people based in Newark, Calif., that was formed in 2011.
Delta ID President Salil Prabhakar said in an interview that his company is working with other smartphone makers interested in the ActiveIRIS technology, although he could not name the companies due to contractual agreements. He said those other companies include smartphones already on sale in the U.S., which implies that ActiveIRIS works with Note 7, as widely rumored. ActiveIRIS is included in Samsung's Galaxy Tab Iris, according to Prabhakar in a report.
Aside from not working well in sunlight, iris scan technology is considered more reliable than a fingerprint scan, Prabhakar said. That's partly because fingerprints of women and children are harder to read because their hands and fingers are smaller and their fingerprints have smaller peaks and valleys to detect. Also, fingerprints age as a person ages, and fingerprints can be obscured by dust and grime among people who work with their hands.