Is virtual reality finally ready for business use?
Virtual reality is about to make a big impact in the enterprise. Here are four companies making business-ready VR products and four industries embracing the technology.
Virtual reality (VR), one of the technologies that always seems to be waiting in the wings, is finally ready for business prime time. Several new products are available for viewing content from Samsung, HTC, and even Google. Companies like WordViz and Giant Spoon helping generate content. While the initial uses might have more to do with a first-person shooter or a Hollywood movie, business uses are starting to emerge.
Edwin Rogers, a virtual reality expert who makes tours of apartment buildings, real estate showings and business events, says one possibility is for car dealerships to offer VR tours for new cars and for real-estate agents to offer home tours. He uses the Samsung Gear VR headset, which shows a 360-degree view of a location in a virtual world. When you turn your head, the scene changes in real-time. Look up at the ceiling and you can count ceiling tiles.
"VR technology is in its infancy and it has not gained mass adoption yet. This is an intelligent smart-phone solution for VR makes the most sense today," he says.
WorldViz, a company that makes VR software, says customers save about 90 percent of the costs involved in making real physical models. For example, a healthcare facility might create a new clinic in VR prior to construction to see the floorplan in a 360-degree viewer, which helps them tweak designs and reduce costs. An actual customer – Lockheed Martin – told CIO.com they save several million dollars in costs in the production floor by doing motion captures that simulate space vehicles and satellites, according to company reps.
"VR technology allows users to naturally walk about a full scale surgery room and change designs at a button click," says Peter Schlueer, president of WorldViz. "Decision makers, stakeholders, designers, surgeons and nurses can collaboratively experience design alternatives and make decisions that will stick. In other words, information can be shared earlier and much more effectively, resulting in better decisions and faster processes."
4 VR products for business use
Several companies offer virtual reality headsets that can be used for business purposes. There are a few pieces of the VR puzzle involved. To create VR videos, you need to capture the footage using a camera that records in a 360-degree panorama. You need software that "stitches" together the content (video, text and audio) into a VR scene. And, the user needs a headset viewer.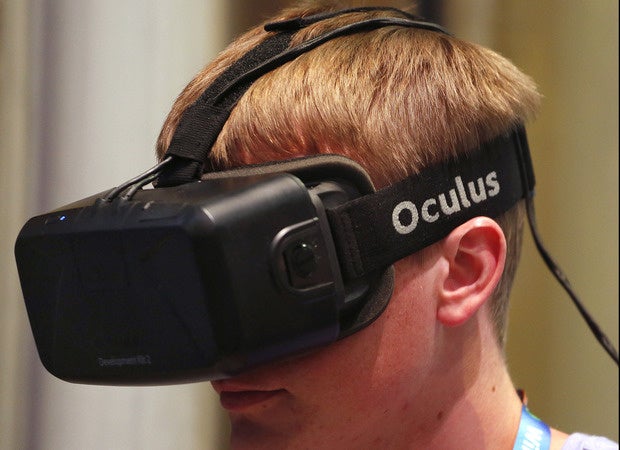 Jonathan Alcorn/Reuters A man uses the Oculus Rift virtual reality headset at the 2014 Electronic Entertainment Expo, known as E3.
1. Oculus Rift