Kindle Fire HDX 7-inch review: Third time's the charm
Considerable hardware and software improvements make Amazon's third attempt one of the best content-consumption tablets around.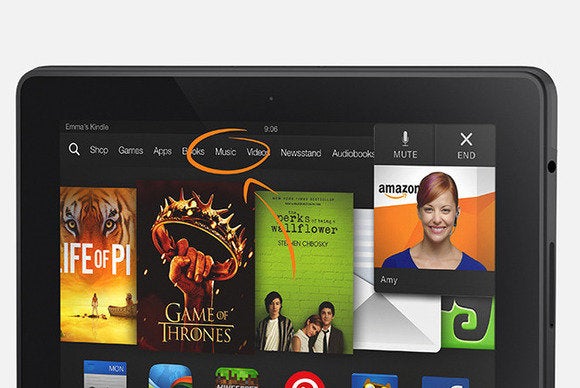 The Kindle Fire HDX is magnificently focused on content. When critics describe other tablets as "content focused," the term is intended to be slightly demeaning, as though the device were good for little more than turning pages and watching videos. When applied to the HDX, however, the term is indicative of a design that targets a specific kind of tablet user and is eager to make them very, very happy.
Available in big (8.9-inch) and little (7-inch) editions, Amazon's tablet runs a world-class mobile operating system based on Android 4.2.2. Okay, technically, Amazon calls the OS "FireOS 3.0" and the canonical source of Android apps for the Fire is Amazon's own app store, not Google Play. But unlike the mobile operating systems of certain other Seattle-area tech giants I could name, Amazon's has a good, if not epic, collection of games and productivity apps.
The company has also beefed up the Fire's enterprise-sturdiness with immediate or imminent support for remote device management, Kerberos authentication, native VPN, and other goodies of extreme interest to IT departments. The Silk Web browser is certainly adequate, and the mail client (derived from Android's) is as good as anything you'll find on any other tablet.
Duly noted. But all that stuff misses the point of the Fire HDX, which is to provide the best tablet for consuming books, music, and video.
Improvements everywhere you look
The HDX is the third generation of the Fire. The chunkiness of the original is gone, gone, gone, replaced with angled lines that echo the edges of the original Kindle. It's thin, but it's substantial enough that you can easily maintain a grip on its slightly textured plastic body. And it's comfortably light. The 8.9-inch model in particular feels more like a pad of paper than a tablet computer. Neither version feels cheap in any way.
Thankfully, Amazon has corrected the worst element of last year's design. The power and volume buttons that were recessed and hard to find are now embossed on the back of the device and easy to locate by feel.
A new origami-style case adds to the bulk, but it's a terrific design. Magnets inside the folding cover allow you to fold it back around for reading, or to click it into landscape or portrait tabletop mode, with your choice of two angles. And unlike the iPad's Smart Cover, it won't pop off when it shouldn't: The Fire clicks into a stub and remains held in place by more magnets.
The 8.9-inch Fire wasn't available for review, but I've had the 7-inch edition for nearly a week now. I'm pleased to see major improvements to the device's screen. Overall, it's brighter and easier to read outside. I'll take Amazon at its word when it says the screen is 100 percent sRGB accurate; all I can say is that the result is a noticeable improvement over last year's Fire HD.