Laptop thieves stopped! Amazing recovery stories
If you've ever lost a laptop or had one stolen, you know what an awful feeling it leaves behind. But a new breed of laptop security software is turning the tables.
Do these programs work? Definitely. These real-world recovery stories show how.
Pilfered in Portlandia
In October 2010, somebody smashed the front window of Nancy Wiebelhaus's home in Portland, Oregon, and ran off with three laptops: two MacBooks and a MacBook Pro.
One of the MacBooks was running GadgetTrak. "I bought it because the same thing happened a couple of years ago when we had three laptops stolen. These kinds of property crimes are really, really common in my neighborhood," says Wiebelhaus, an eighth-grade language arts teacher.
Once activated, GadgetTrak begins tracking location and network information whenever the stolen laptop connects to the Internet. It also captures photos of the person using the device, and sends them to the computer's owner.
"Over the course of a week or two, I got three videos of people who had my laptop," says Wiebelhaus. GadgetTrak also sent her an IP address that the suspects were using to go online.
She forwarded the information to Portland Police Department, which subpoenaed the Internet service provider. The ISP identified the customer who had been assigned that particular IP address.
The detective on the case immediately recognized the name of the customer. The suspect was already in jail, having been arrested recently on another crime.
The defendant, Tracy Miller, 48, ended up pleading "no contest" to the burglary. He was sentence to an additional 31 months in prison.
"While the software helped in catching the person who broke into my house, in the end I never did get my laptops back," says Wiebelhaus.
Miller reportedly told police that he had traded one of the MacBooks to his dealer for drugs. The whereabouts of the other two laptops is unknown.
'This Guy Has My MacBook'
When Oakland, California, resident Joshua Kaufman arrived home on March 21, 2011, he found his apartment burglarized and his MacBook stolen. He reported the crime to Oakland Police Department the same day.
Kaufman's laptop was running Hidden, a Mac-recovery app that captures spy photos of the thief (and sometimes of friends and family, too), screenshots of computing activities, and location information. With Hidden's help, Kaufman immediately began amassing a dossier of photos, screenshots, and network and location information about his missing Mac.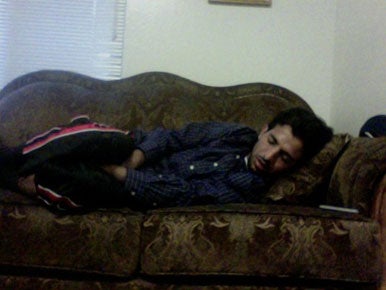 Picture snapped by the laptop camera as the suspect sleeps. Image: Joshua Kaufman
The pictures and screens chronicle a scruffy-looking guy's adventures with Kaufman's laptop. In one shot, the man is sleeping on a sofa; in another, he's sitting up in bed (with a naked torso), staring at the screen; in a third, he's driving while using the MacBook.
Previous Page 1 2 3 4 Next Page