Lenovo debuts a dozen PCs with Skylake, from ThinkCentre Tiny to huge AiOs
This means fresh new choices for consumers and small businesses, in a wide variety of form factors.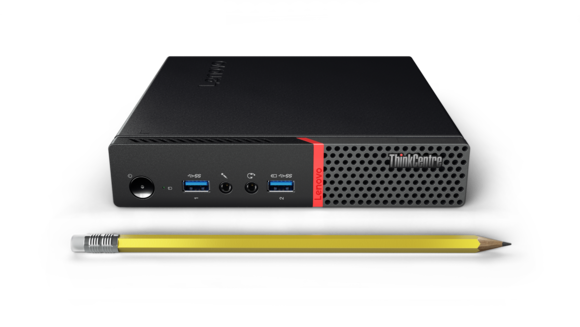 Lenovo boasts the ThinkCenter Tiny now with Skylake, has the most processing power per square inch of any PC. Credit: Lenovo
It measures 1.36 inches wide, by 7.2 inches in diameter, and 7.05 inches high. The M900 Tiny comes with up to 35W versions of Skylake processors, a maximum 32GB RAM, support for up to three displays from the device's integrated Intel HD graphics. It also has a dust shield that Lenovo says reduces PC-choking dust by up to 37 percent over the PC's three-year lifecycle.
The ThinkCentre M Tiny desktops will also have M700 and M600 variants. The M600 comes with an Intel Pentium processor and a maximum 8GB RAM.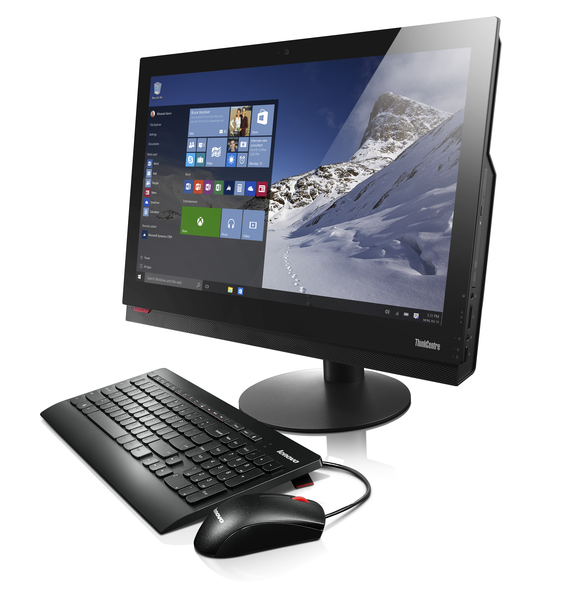 The 23.8-inch Thinkcentre M900z Touch offers a choice of HDD, SSHD, or SSD storage drives. Credit: Lenovo
Lenovo will also release an M900z AIO, M900 tower, and M900 small form factor. The tower and small form factor rock 65W skylake processors, and up to 64GB RAM. They have Intel integrated graphics again, but can support up to seven independent displays if you opt to slap a graphics card in either version's empty PCIe x16 slot.
The M900z AIO also takes up to a Skylake Core i7, can take up to 32GB RAM, up to 12TB with a dual HDD set-up. The display is a 23-inch 1080p with 10-point multitouch.
The M900 Tiny desktop rolls out before the end of 2015 starting at $750, while the M700 and M600 Tiny PCs will start at $500 and $400 respectively.
The M900z comes in November starting at $930, and the M900 Tower and small form factor builds will arrive before the end of the year at $800 and $780 respectively.
Downward-facing ThinkPads
Finally, it wouldn't be a major Lenovo product rollout without some new Yoga devices. Two major versions are planned for this season, including the Yoga 260 and 460 rocking Windows 10. The 260 is a 12.5-inch convertible that weighs just under three pounds, offers up to 1080p resolution, up to 16GB RAM, a maximum 512GB SSD, and Skylake, of course.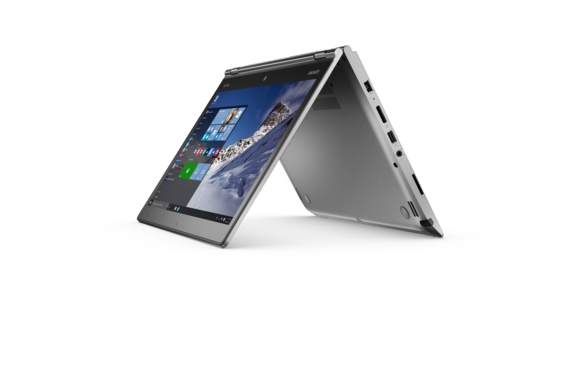 The Lenovo Thinkpad Yoga 460 has a carbon-fiber shell for extra durability. Credit: Lenovo
The 14-inch 460 will have options for a 2560x1440 WQHD display and an optional Nvidia GeForce 940M GPU. You also have your choice of a 1TB or 256GB SSD.
Both Yogas come in black or silver (the latter color goes on sale in January) and a digital pen, as per usual with the rest of the devices we've seen both models have options for Skylake processors. The two new Yogas also have LTE-Advanced WAN optional connectivity, which Lenovo says is a first for convertible notebooks.
Previous Page 1 2 3 4 Next Page