Lenovo IdeaPad Z400 Touch: A 15.6-inch budget laptop that's strong on performance and can survive some rugged handling
The Lenovo IdeaPad Z400 Touch may be a bit heavy on weight and light on battery life, but it manages to provide solid performance and can handle a little rough handling.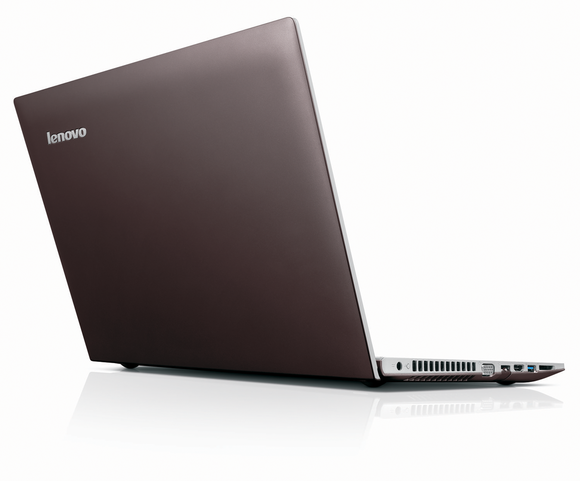 This solidly built notebook features a great touchscreen display, an even better keyboard, and a huge and fast hard drive. But Lenovo's networking component choices are a bit disappointing.
Lenovo laptops are the models of choice for many corporate IT departments, and the company manufactures some very good consumer-oriented machines, too. The IdeaPad Z400 Touch is a case in point. You wouldn't mistake it for a sleek Ultrabook—it's thick and heavy, and its battery life is wretched—but the Z400 did finish second on Notebook WorldBench 8.1 in our five-laptop competition. And despite Lenovo's copious use of plastic, the Z400 is built like a brick outhouse.
Lenovo stuck with Intel's third-generation Core processor for this budget-priced machine, pairing a 1.6GHz Core i5-3230M with 6GB of DDR/1600 memory. At 14.0 inches, its 1366-by-768-pixel display is much smaller than the Acer Aspire E1-572-6870's 15.6-inch display; but the IdeaPad Z400 boasts a ten-point touchscreen, whereas the Acer does not.
The Z400 is an attractive PC, with charcoal-colored soft-touch paint on the outside and a pretty carbon-fiber look on the inside. Lenovo's computer feels as rugged as Acer's feels fragile. Though the display exhibits a little flex, the lower chassis is as rigid as some all-metal bodies I've tried to bend. The downside to the solid construction is weight gain: Despite its smaller display, the Z400 outweighs the Acer by 0.7 pound. Still, it comes by most of that weight honestly. Lenovo provides 6GB of memory (as against Acer's 4GB); packs a 1TB, 7200-rpm hard drive (versus the Aspire's 500GB drive); and includes a DVD burner (Acer provides no optical drive at all).
The IdeaPad Z400 comes with the type of top-notch keyboard that Lenovo is famous for building. The island-style keyboard is fully backlit and feels great under the fingers. It lacks a dedicated numeric keypad, and there's no provision for temporarily assigning letter keys on the right side an alternative function to serve as one, but I was happy to see the full-size arrow keys in the familiar inverted-T formation at the far edge.
Augmenting the touchscreen is a responsive trackpad that supports most Windows 8 gestures, including two-finger scrolling, swipe, zoom, and rotate. The trackpad doesn't have distinct right and left mouse buttons, but clicking in the lower right and left areas of the pad perform the same function. Unlike Lenovo's higher-end notebooks, the Z400 does not embed a trackpoint in its keyboard; however, I found that the trackpad and the touchscreen were all I really needed.
Benchmark performance
The IdeaPad Z400 took a solid second place in our Notebook WorldBench 8.1 benchmark competition (behind the Acer Aspire E1-572-6870), with a score of 132, marking it as 1.3 times faster than our reference Asus VivoBook S550CA, which comes outfitted with a 24GB SSD cache for its hard drive.