Lutron's Caseta lighting controls are now (mostly) compatible with Apple's HomeKit
New Caseta Smart Bridge lets you use Siri to control Lutron dimmers and Serena window shades.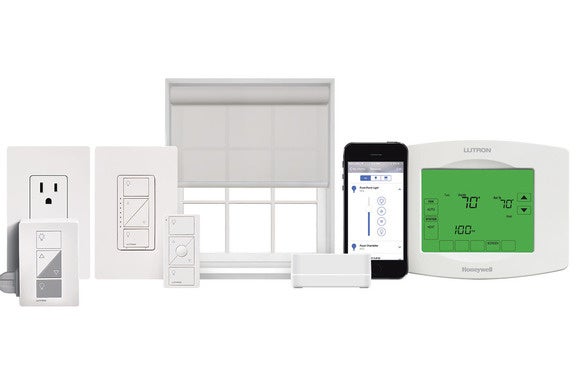 Apple was quick to bat down rumors that its HomeKit connected-home technology wouldn't be ready until late this summer, and lo and behold, Lutron has announced that a HomeKit-compatible version of its Caseta lighting system is available for purchase at Apple Stores today.
HomeKit-compatible Caseta kits enable you to use Apple's Siri voice-recognition technology on an iPhone or iPad to control Lutron's Caseta in-wall dimmers and plug-in lamp modules, as well as its Serena motorized window shades. Tell Siri "turn the lights off," and all the lights controlled by Caseta devices will automatically turn off. You can give Siri similar commands to close its Serena roll-up and honeycomb window shades.
Lutron Director of Product Management Matt Swatsky told me in a briefing last week that HomeKit also allows you to define "Rooms" (all the controlled lights in a given room) and "Zones" (all the controlled lights in groups of Rooms). This enables the Caseta system to turn the lights in the living room on or off without impacting the lights in the rest of the house.
If you'd like to know the status of an individual light, you can ask Siri that as well. Or you can ask Siri to set any of your lights controlled by Caseta dimmers to a certain percentage of brightness. Finally, Caseta can also be integrated with smart thermostats from Honeywell and Nest, and Lutron has a Caseta channel on IFTTT.
Why this matters: Apple often bides its time before entering a new market, letting other companies prime the pump before it jumps in with its own take. Whatever your opinion of Apple, the fact that it sees the connected-home market as large enough and mature enough to warrant its attention can only be good for everyone in this space, consumers and manufacturers alike.
That's doubly true because Apple is smart enough not to try and reinvent the wheel in this space with an entirely proprietary solution. These are early days, but from what I've seen so far, HomeKit leverages some of the best technology that's already available.
How the Caseta system works
Lutron originally launched its Caseta product line in April 2014. The system receives instructions from Android and iOS devices connected to your Wi-Fi network and sends them to Lutron's switches and window shades (using a proprietary RF protocol) by way of a Lutron Smart Bridge. The system also supports schedules, so you can make your home look occupied while you're away; and it supports geofencing, so that it can automatically turn on your home's lights as you approach. The system can even send you reminders if you leave a light on when you leave the house.