Mac and Chromebook sales erode Windows PC's retail share
Microsoft and OEMs will continue to cut consumer PC prices, says NPD Group; expect lots of choices in the US$199 to US$249 range for the holidays.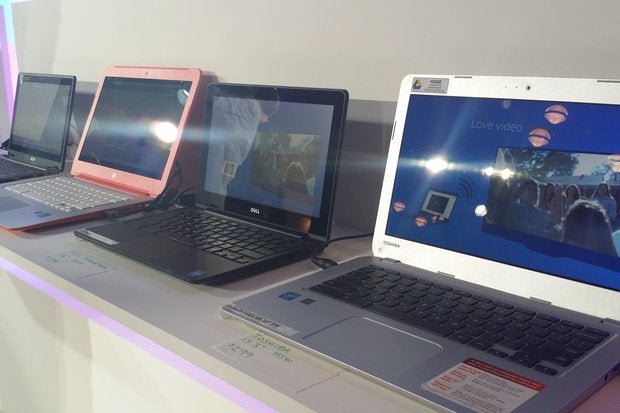 Chromebooks (and Macs) are eating into Windows PC sales. Credit: Mark Hachman
Macs grabbed more than a quarter of all U.S. consumer personal computer sales at retail in the 10-week stretch from July 4 to Sept. 1, a research firm said this week.
During that traditionally brisk, nay critical, sales season -- back-to-school is second only to the holidays in the U.S. for compute sales -- Apple's Mac line accounted for 26.8% of all retail sales to consumers, according to the NPD Group. That share was up 11% from the same period in 2013, when the Mac owned a share of 24.2%.
Stephen Baker of NPD cited the price cuts earlier this year to the MacBook Air line -- Apple's most popular notebook -- for the increase in Mac sales. "It's pretty hard to see what else may have caused it," Baker said.
In April, Apple dropped prices of the MacBook Air by $100, and for the first time offered a sub-$900 Air. The 11-in. notebook sells for $899 to consumers, $849 to students and parents of students.
Meanwhile, Chromebooks, notebooks powered by Google's browser-based Chrome OS, pushed their share from 3.3% in 2013 to 4.5% this year, a 36% jump.
The growth of those alternatives came at the expense of Windows PC sales, which dropped about 6%, slipping from a 72.3% share in 2013 to 68.4% in 2014.
Total personal computer sales, however, were up almost 3% for the 10 weeks compared to last year, a reversal from 2013 when sales were down 2.5% from the year prior.
That matches what other research firms have said this year: While earlier predictions for 2014 had been dismal, stronger-than-expected sales have changed forecasting models. Analysts now expect a PC rebound in the second half of the year, those sales largely triggered by consumers shifting discretionary dollars from tablets back to PCs, which in many homes are aging, having been ignored since 2010 when tablets like the iPad stormed into the mass market.
The U.S. consumer retail sales that NPD tracked this summer may be the start of that refresh cycle.
"I think what we're seeing is an investment in the PC market by brands and suppliers that believe investing is going to produce some kind of positive result for them, but not for their competitors," said Baker.
The "investment" Baker talked about was additional price cuts. In the last three weeks of the back-to-school sales season, the Windows notebook ASP (average selling prices) fell to $441, an 8% decline from last year. The ASP of the cheapest models -- those under $300, priced to compete directly with Chromebooks -- dropped by 11% to just $242.