Mac troubleshooting FAQ: iCal and Mail
Address Book, iCal, and Mail are super-handy. But they're not always fool-proof. Chris Breen answers the most common troubleshooting questions about these three apps.
Although Apple has avoided calling them iPIM, Address Book, iCal, and Mail form the core of personal information management on the Mac. With so many Mac users depending on those three apps to keep their lives in order, it's not surprising that, when those users have problems have problems with those apps, they call Mac 911. Here are the questions I get most often and my answers to them.
When I open Address Book, I see lots of duplicate contacts; some of the information in the duplicated contacts doesn't match.
You can combine those dupes. Open Address Book and choose Card -> Look For Duplicates. Address Book will do exactly that and eventually produce a sheet that details the number of duplicate cards and duplicated entries. Click Merge, and the information from cards deemed duplicates will be merged into a single card. You'll also see an option allowing you to merge cards that have the same name but contain different information. Unless you know an awful lot of John Smiths and Mary Joneses, go right ahead and enable that option. Those contacts will also be merged.
I need to transfer my contacts to another Mac and to my Windows PC at work.
Transferring contacts to another Mac is easy: In Address Book, choose File -> Export -> Address Book Archive. Copy the resulting archive to the other Mac, launch Address Book on that Mac, and choose File -> Import. Find the archive and click Open.
Transferring contacts to a Windows PC is trickier: You must export your contacts in vCard format. But if you choose File -> Export -> Export vCard in Address Book, all of your contacts will be exported to a single vCard, which many Windows apps can't read; you need to export each one to an individual vCard.
To do that, create a folder on the desktop for your exported contacts, select those contacts in Address Book, and, while holding down the Option key, drag the contacts to the folder you created. They will export as individual files, ready to be transferred to your PC.
How can I sync iCal with my Google calendars?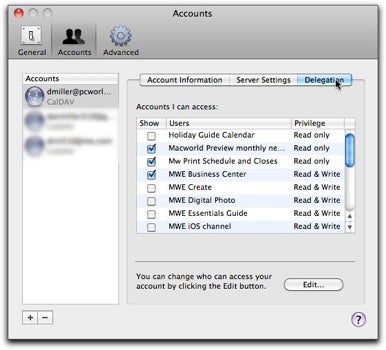 Once you've added your Gmail account to iCal, you can choose which calendars you'd like to sync in the Delegation tab.
Launch iCal, choose iCal -> Preferences, and click the Accounts tab in the resulting window. Click the plus-sign (+) button at the bottom of the window. In the Add An Account sheet, choose Google from the Account Type pop-up menu, enter your Gmail address and password in the appropriate fields, and click the Create button. iCal verifies the account and adds it to iCal. In iCal's list of calendars, you'll see a new calendar group called yourgmailname@gmail.com containing one calendar. To add other calendars associated with your Gmail account, click the Delegation tab in the Accounts window and enable the calendars you'd like to view and edit in iCal.