Mac troubleshooting FAQ: iCal and Mail
Address Book, iCal, and Mail are super-handy. But they're not always fool-proof. Chris Breen answers the most common troubleshooting questions about these three apps.
How do I create iCal events so they appear at the correct local time when I travel?
Open iCal's preferences, select the Advanced tab, and enable Turn On Time Zone Support. The time zone for your current location will appear in the top right corner of the iCal window.
Now create an event for when you'll be traveling. Let's say you live in Maine and need to schedule a 10 a.m. meeting for when you're in California. Create the event at home in Maine, enter 10 a.m. as the start time, and, from the event's Time Zone pop-up menu, choose Pacific Time. (If you don't see Pacific Time, choose Other and select it on the map.) On your calendar—which now displays Eastern Time—the event will appear at 1 p.m. (or 10 a.m. Pacific Time).
When you reach California, iCal should display Pacific Time. (If it doesn't, choose it from the pop-up menu at the top of the window.) The event should appear at 10 a.m., where it belongs. To create an event that doesn't shift based on time zone—it occurs at 10 a.m. regardless of where your Mac thinks it is—choose Floating from the event's Time Zone pop-up menu.
When I create a new message in Mail and enter the first few letters of the addressee, I see a list of old contacts I no longer use.
First, choose Window -> Previous Recipients and, in the Previous Recipients window, select all the entries and click Remove From List. You can purge this list more thoroughly by quitting Mail, navigating to youruserfolder/Library/Application Support/AddressBook, and tossing out the MailRecents-v4.abcdmr file. When you relaunch Mail, the Previous Recipients window should be clear; you should get fewer autocompleted entries when you address your next e-mail message.
As for old contacts that appear because they're in your Address Book, the only way to remove them is to launch Address Book and weed them out, one by one.
Mail asks for my account password every time I check for new messages. I've told it to remember my passwords, but it won't.
This constant password nagging hints that there's a problem with the keychain where your e-mail password is stored. (If you were randomly asked to enter a password—sometimes yes, sometimes no—then I'd cock a stern eyebrow at your ISP instead.)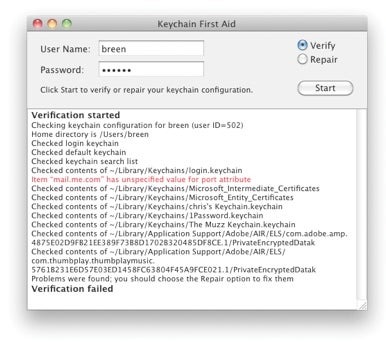 If you're routinely nagged for passwords, your login keychain could use repairing.
Open Keychain Access and choose Keychain First Aid from the Keychain Access menu. In the resulting window enter your administrator's password, enable the Verify option, and click Start. With luck, some red entries will appear in the window, indicating that there's a problem with your keychain. Now enable the Repair option and click Start. With the same measure of luck, those keychain problems will be repaired and Mail will no longer harangue you for a password.