Mail in iOS 9: Three huge changes that make email less awful
Document attachments, intelligent search, and multitasking features make Mail more useful than ever.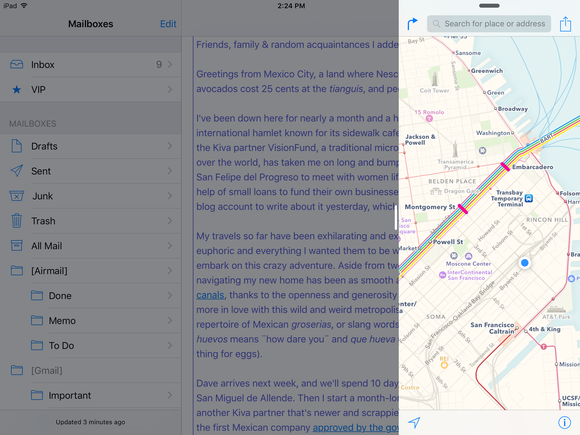 With Slide Over, only the sidebar app is active, but it's a great way to look up an address in Maps when you're composing a new email.
Slide Over: Mail happens to be the perfect app to use iOS 9's new Slide Over app sidebar. Press on the right side of your iPad and swipe right to bring the app tray into your sidebar. From there, you can select an app to open in the right hand third of your screen—so if you're composing an email and need to map your route to a destination, just pull up Maps and search for an address without leaving your message.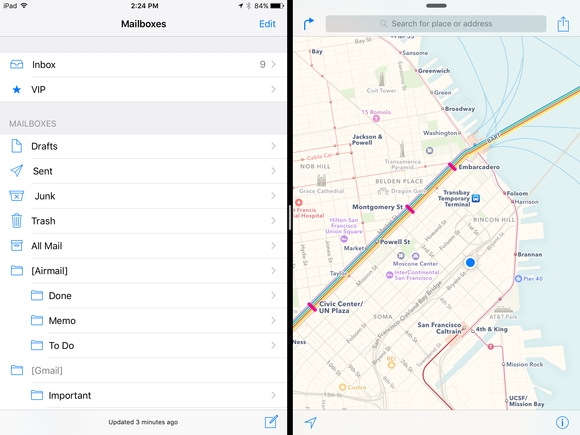 Split View lets both apps stay active in either half of the iPad's display, but it only works with iPad Air 2.
Split View: If you have an iPad Air 2 (or you're planning on purchasing an iPad Pro), you can use Split View instead of Slide Over to read emails and view other apps side-by-side. Need to copy and paste details from Notes into an email to the boss? Split View is perfect. (Though you could presumably do that with Slide Over, too.)
Picture in Picture: For those times when you have to get work done but your parents really want to have a FaceTime conversation (or you want to catch up on Last Week Tonight—no judgment), Picture in Picture is a great new way to multitask. You can move the picture around and resize it so it doesn't block the email you're trying to read (or write), but it always remains the top window.
iOS 9 didn't dramatically change the Mail app at its core, but little tweaks and systemwide multitasking tools make email slightly less awful to manage.