Microsoft Build: Windows 10 'Redstone' and HoloLens will star at Microsoft's dev conference
Last year's Build was about promises. This year, Microsoft needs to present developers with a plan for why they should continue buying in to Windows.
Office as a platform, too
Microsoft's vision of Office 2016 parallels that of Windows 10 itself: a greater degree of interconnectedness among apps, as well as more ways for third-party apps and services to be built right in. Many thousands of businesses have bought Office, making any service that connects to it that much more valuable.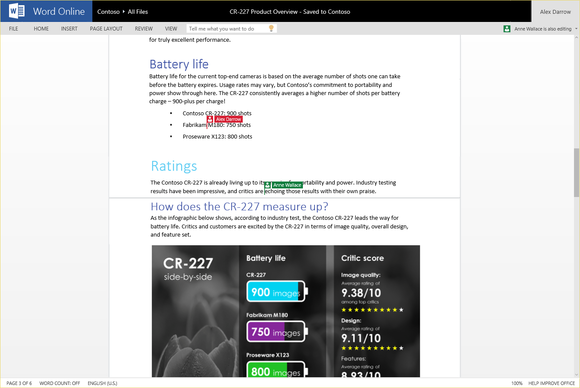 Microsoft Collaboration and connectivity have always been part of Office; now, Office plans to try to lure more third-party development.
Microsoft's Office app store, though, has bombed harder than its own Windows app store. Undaunted, Microsoft has retrenched with specific services like Uber and EverNote that directly connect to Office Web apps, and has Office Connectors that help serve the same purpose. It's unclear whether Microsoft can truly convince developers to make the effort to connect to Office, but by doing so Microsoft can make Office more "sticky," and keep justifying those annual Office 365 subscriptions.
Much more about the cloud
At PCWorld, we've always drawn a line at covering Azure and Microsoft's enterprise services, preferring to leave those to our colleagues at enterprise sites like Computerworld. But as far as Microsoft's future is concerned, the cloud—its Azure business, its new business intelligence technology, and the connective tissue of data moving back and forth between services—still drive a huge chunk of Microsoft's revenue.
The bottom line? Windows 10 was a hell of a party, and Microsoft would like to keep the good times rolling. Developers, though, want to know what's in it for them. Let's see if they get their answers by the time Build 2016 winds down on Thursday night.
Previous Page 1 2 3