Microsoft launches Outlook app for Android, declutters your inbox
Microsoft unveiled a number of rather useful additions to the Outlook Web app, including a tool that gets rid of all that useless info your coworkers send you.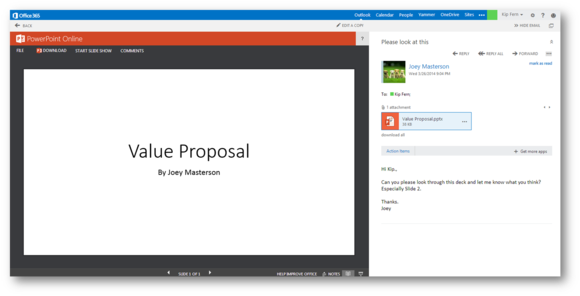 On Monday, Microsoft launched a number of features that should dramatically improve the usefulness of its Outlook Web app, including an Outlook Web app for Android and a "decluttering" tool for your inbox.
Specifically, Microsoft announced a "clutter" tool, OWA for Android, and new, streamlined collaborative editing tools that tie the Office Web apps like Word directly into the email experience. Microsoft also said it extended the concept of its Yammer groups across Office 365, into Outlook as well. All are coming "later this year," Microsoft said.
Microsoft made the announcements at its Microsoft Exchange Conference, taking place in the days before its Build developer conference launches later this week.
"There is no denying that businesses depend on email more than any other digital communication medium," Steve Chew, a product manager for Exchange," wrote in a blog post. "The downside of email's popularity is that people receive so much of it that they often experience inbox overload and email fatigue. Email is also a highly versatile tool, so it gets used in situations where it is not the optimal one, like when people collaborate on a document by emailing multiple—and often conflicting—versions around. Lastly, email makes it easy for people to have private conversations, but these conversations don't provide visibility to people outside of the recipients who could benefit or contribute."
From a financial sense, the Outlook Web App for Android could serve as a cheaper alternative to Android solutions like TouchDown HD or Samsung's Knox, which create virtual lockboxes on an Android phone to store secured corporate data. When an employee leaves the company, those data stores can be remotely erased without interfering with the user's personal data. Microsoft previously launched OWA for iOS devices, including iPads and iPhones.
However, Microsoft's decluttering tool could save something more important: time.
Microsoft is defining clutter as somewhat more important than outright spam, but not something that needs to be acted upon, such as a notice about a fire drill in a remote office. A new tool for the Outlook Web app will "sweep" user inboxes clean of this clutter, giving users the opportunity to review the "clutter" in its own distinct location. And, like most spam tools, if an email is accidentally labeled as "clutter," a user can move it into email that he or she sees in the future.
So how does Microsoft determine clutter? Automatically. "Leveraging the intelligence of the Office Graph, clutter looks for how 'importantly' or 'unimportantly' you treat emails and looks for patterns behind those behaviors," Chew wrote. In other words, if you consistently ignore emails about volunteering to pick up trash around the neighborhood, Outlook's Web app will treat those as clutter and bury them.