Microsoft releases Office Mobile for Android phones (tablets need not apply)
Office 365 subscription required; tablets need not apply.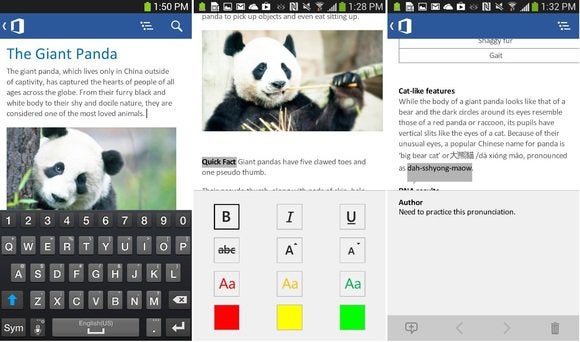 Microsoft Wednesday added Android to the list of mobile operating systems now supported by Office Mobile. But Office Mobile for Android only covers phones, not tablets, limiting its utility.
The Android version, Office Mobile for Android, is also arguably the weakest of the bunch, in terms of compatibility with Microsoft Office. Microsoft is still tacitly encouraging users to buy Windows Phones, which come preloaded and activated with Windows Mobile and don't require an Office 365 subscription to use. The problem is, within the Android world, there are a number of other office solutions that provide very good direct competition to Microsoft's offering.
Nevertheless, Office Mobile for Android is free and downloadable from the Google Play Store. The only requirement is that your phone must contain Android 4.0 or higher, and you must already have purchased Office 365.
In a break with Office Mobile for iPhone, Microsoft doesn't even offer the option to purchase Office 365 from within the app; instead, users must sign up outside the application itself. And without Office 365, Office Mobile for Android is virtually useless.
"The release of this app shows that we're committed to keep providing additional value for Office 365 subscribers," said Guy Gilbert, a senior product manager of the Office apps for Microsoft, in a blog post.
Qualifying Office 365 plans include Office 365 Home Premium, Office 365 Small Business Premium, Office 365 Midsize Business, Office 365 Enterprise E3 and E4, Office 365 Education A3 and A4, Office 365 ProPlus, and Office 365 University.
There are also Office 365 government plans that include Office Mobile. Users can also visit Office.com and sign up for a free 30-day trial, Microsoft said.
While Microsoft eventually intends to make Office Mobile for Android available across 33 languages and in 117 markets, it's only currently available for the United States. That will change over the next few weeks, Microsoft said.
What's included
Like Office Mobile for iPhone, the Android version comes with mobile versions of Excel, PowerPoint, and Word; Office Mobile for Windows Phone adds OneNote as well. So far, Android users don't have access to the Outlook Web App app that Microsoft recently released for the iPhone, either.
Users can create new documents, edit those that they've already created, and save, load, or edit files saved to Microsoft's SkyDrive or SkyDrive Pro—which on Tuesday received a few upgrades, as well.
But the ability to create files only applies to Word and Excel; for now, you can review your PowerPoint slides and edit them, but not create a presentation from scratch.
Users can also open a document via email. Office Mobile includes a couple of handy features designed for the phone;