Microsoft writes off US$7.6B, admits failure of Nokia acquisition
'Monumental mistake' by former CEO Steve Ballmer comes home to roost.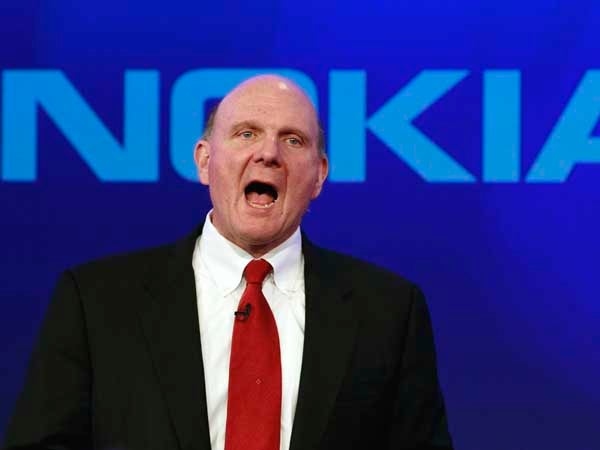 Microsoft CEO Steve Ballmer speaks at a Nokia event in London Feb. 11, 2011. Credit: REUTERS/Luke MacGregor via Computerworld.
Microsoft today wrote off billions of dollars related to its Nokia acquisition, saying it's taking an "impairment charge" of $7.6 billion, or nearly the full amount it paid for the Finnish firm's smartphone business and patents last year.
The announcement slapped the failure sticker on the last major move made by former CEO Steve Ballmer, who pushed for the Nokia deal in his final months in office against objections by, among others, Satya Nadella before he was elevated to the chief executive's chair.
"It was a mistake to being with," said Jack Gold, principal analyst at J. Gold Associates. "A monumental mistake. Microsoft had no business being in the cut-throat, low-margin phone business. Who's making money in phones besides Apple?"
Microsoft announced the purchase of Nokia's phone assets in September 2013 -- just weeks after Ballmer said he would step down -- and finalized the deal in April 2014. The total purchase price ended up as approximately $7.9 billion, according to an April 2015 filing with the U.S. Securities and Exchange Commission (SEC).
"Microsoft will record a charge in the fourth quarter of fiscal 2015 for the impairment of assets and goodwill in its Phone Hardware segment, related to the NDS business," Microsoft said in a statement Wednesday, referring to the Nokia Devices and Services division it acquired.
"Impairment" is a term used to describe the situation when the market value of a business is less than what's carried on the books. In such scenarios, corporations are required to balance accounts by taking a non-cash charge to the tune of the difference. No cash is transferred, although the write-down will impact Microsoft's June quarter earnings and its fiscal-year numbers. The money was already spent, Gold pointed out.
Previously, Microsoft had carried $5.5 billion in "goodwill" from the Nokia acquisition, and another $4.5 billion in intangible assets, the bulk of the latter representing the patents it bought from the Finnish firm. Because "goodwill" is the difference between purchase price and actual assets, tangible or otherwise, writing off the entire amount, as Microsoft just did, signals that the company grossly overpaid.
Today's write-off was Microsoft's largest ever, exceeding by 23% the $6.2 billion charge it took in 2012 to account for the failure of its 2007 purchase of online marketing and advertising company aQuantive.
"Give Nadella a lot of credit for stepping up here," said Gold, referring to the CEO's decision to write down the deal and move on.
Jan Dawson, chief analyst with Jackdaw Research, echoed that in an analysis he posted shortly after Microsoft's announcement. "The key point is that Microsoft has at this point basically unburdened itself of the value of the acquisition, such that if it does have to wind the business down it likely won't have to take another significant impairment charge," Dawson wrote.