Naughty America's virtual reality videos made me feel like a real-life porn star
VR porn will blow your... mind (and steam up your VR headset's lenses).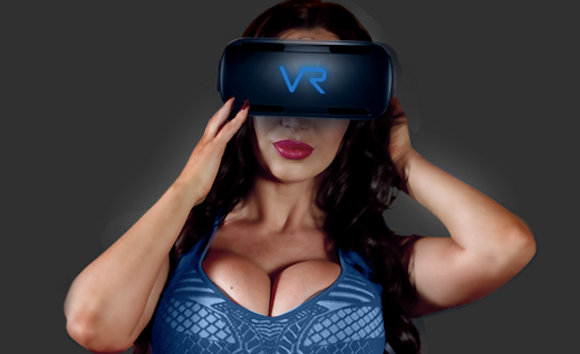 Credit: Naughty America
I've been immersed in some compelling virtual reality experiences before. Heck, earlier this week, trying a Mount Everest demo on the HTC Vive invoked my fear of heights to such an extent that I froze in terror for a long, long time. But I've never witnessed anything as, uh, stimulating as VR porn. And even if adult video isn't your thing, these pioneering videos have a lot to teach about how to craft films made for VR, as opposed to shoehorning your traditional film into VR.
Naughty America, one of the U.S.'s largest adult film creators, invited me to try their virtual reality experiences on a Samsung Gear VR at CES 2016, and how could any warm-blooded guy pass that up? But the experience wound up being far more vivid, personal, and immersive than my wildest expectations.
I won't get too detailed—we're a fairly family-friendly publication—but the films put you in the point-of-view of view of a man or woman sitting in a chair as performers, er, interact with your surrogate. The illusion's intensely compelling, and you can look where ever you'd like, at whatever you'd like. I found myself leaning back and looking up for certain scenes, leaning forward and looking down for others, and would swear I felt the performer's breath on my skin as she leaned in close. It's so incredibly realistic that I had to pause halfway through the demo to wipe steam off the Gear VR's lenses.
Part of what makes the experience so great is that Naughty America embraces the potential of the medium (though it's technically 180-degree immersive video, not VR, as you can't look behind you). As I said, your body is replaced with an actor's in the films, and the female performers lean in to whisper things to you, wander out of the room for items, and work themselves into positions that require you to look around and bask in the VR experience. Naughty America CIO Ian Paul says the company's spent a lot of time and money in figuring out how to best choreograph and shoot a VR film, as well as educating performers how to play to the medium's strengths. Crafting virtual reality experiences also requires investing in special filming equipment, and Paul says upgrading to binaural audio seriously enhanced the experiences. (I concur.)
I found myself wishing for some sort of HTC Vive-like motion controller interaction during my experience, to interact with the scenes in some way, but Paul says Naughty America is currently keeping its adult VR films non-interactive to make them as widely compatible with as many devices as possible. (And to be honest, your hands will probably be occupied anyway.)