Netgear Arlo HD Camera review: Stylish, smart, and currently proprietary
Netgear's Arlo security-camera system could be a great Wi-Fi security system if Netgear makes the right decisions with regard to positioning it.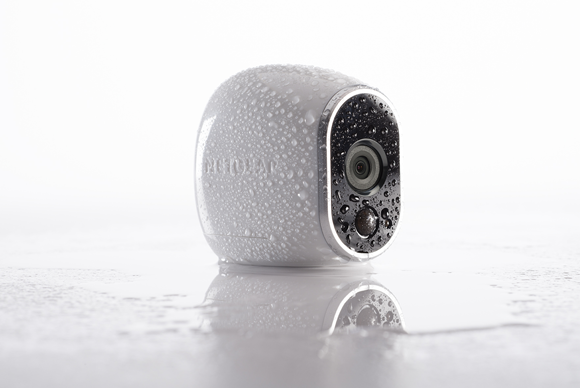 My first impression of Netgear's white, pod-like Arlo security camera--reviewed here as part of a two-camera starter pack--was that it might be the progeny of Wall-E and Eva. I wanted to hide behind a rock when the infrared illumination surrounding the lens kicked in.
Fortunately, the product is clever in other, more useful ways. Completely wire-free and weatherproofed to an IP X5 rating (likely good for everything up to a tornado), each camera is powered by four CR123 Lithium batteries with an estimated lifespan of four to six months. Then there's the cup-and-ball magnetic mounting system that makes it super easy to attach and adjust the camera. You get a full 360 degrees of movement parallel to plane of the parent surface, with an approximately 120-degree arc in the perpendicular.
The $349 kit reviewed here comes with four mounting bases: Just install them using the provided screws (with dry-wall sleeves) where you might need a camera, then stick an Arlo to one of them. Additional cameras are $170 apiece, and there's a single camera starter system available for $199.
Note that while magnetic mounting makes mounting and moving cameras about a breeze, it also makes them easy to pilfer. Because of the cute factor, you'll want to mount them well out of the reach of cats and kids. You might want to hide the step ladders as well. If you really need to mount the camera more securely, there's that bolt hole you must deal with when you unbox the system. The bolts have wide heads and are pretty strong so you might be able to re-task them if you can access the back of the mounting surface.
Web-based
An Arlo camera isn't your standard wireless webcam--you can't use it with just any old Wi-Fi router. Instead, it links with the supplied, upright Wi-Fi base station that attaches to your existing router via an Ethernet cable. The base station will support up to 15 cameras--if you have the appropriate service plan. The upside is that you get a discrete,dedicated wireless network for cameras that are easy to set; one that offloads battery-draining tasks from the cameras. The downside is a centralized failure point--and a closed system.
Closed system? All of the video taken by the Arlo system is stored online. You view remotely it via free Android and iOS apps or via the Arlo web portal. The web portal is very nicely done with a clean, attractive, easy-to-navigate user interface. You can force cameras to record video or snap photos, and you can download anything you like to your local device or PC.