No waiting rooms, no copay: 6 apps to get a doctor's advice
Because you can't ask Siri, "Does this look infected to you?"
The last time I saw my doctor, I arrived about 12 minutes early for my appointment. She arrived 22 minutes late, to find me waiting outside of her locked office. Which means I'd been there for over half an hour before I even saw the waiting room. Now, I appreciate the test of both my patience and my blood pressure, but it seriously cannot continue to take me three hours to get a prescription filled. In the wise words of Sweet Brown: Ain't nobody got time for that.
Listen, very few of us have time to just hang out in a waiting room—and after this last appointment, I know I'm going to avoid actually going into the doctor's office unless absolutely necessary. Fortunately, a variety of mobile apps have my back, enabling me to get free medical tips, verified advice, and even consult with medical professionals from my phone. Which means that the next time I need advice about migraine prescriptions, I can handle it in minutes on the bus ride into work. If you also want to minimize your time in a waiting room, check out these handy health apps.
iDR 24/7—iOS (Free)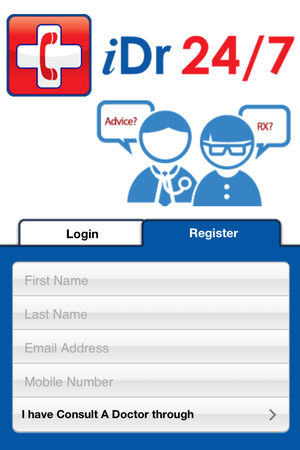 This app does just what the name says: Helps you consult with a qualified, U.S. Board Certified doctor by phone or secure messaging anytime, anywhere. There is a catch, however, and it is that iDr. 24/7 is affiliated with a service called Consult A Doctor, which itself is affiliated with several insurance plans and health services. If you're not already a member of a participating health plan, you'll need to call them to assist with your registration—which may still be easier in the long run than trying to set up a last minute appointment over 4th of July.
The app gives you four options for contacting a physician. Choose "On Call" to immediately connect to a doctor for answers to questions, advice, or recommendations. Pick "Priority" to have a doctor return your call in about 30 minutes (call back is guaranteed within 3 hours), and you can get a diagnosis, treatment plan, or prescription—including refills.
You can also make an Appointment, which is much like the Priority option, except that the doctor calls during a scheduled time (Monday through Friday). Lastly, the E-consult option lets you consult with a doctor using the secure messaging service to get a expert information and answers to your question within two hours (guaranteed within 24 hours).
While the app itself is free, the services, sadly, are not. E-Consults are $11, and the On Call option is $15. The Priority and By Appointment options start at $21, but if you want a video consult with either of those, that's an additional $26 charge. iDr 24/7's My Health Center feature offers free information on the latest health topics, medications, medical tests, and support groups.