No waiting rooms, no copay: 6 apps to get a doctor's advice
Because you can't ask Siri, "Does this look infected to you?"
The app also offers a very user-friendly medical dictionary and encyclopedia, and a program where users describe symptoms to discover possible diagnoses on their own. You can search for information alphabetically, by symptom, or by clicking on a body part. Looking up a symptom will provide you with causes, risk factors, signs and tests, treatment, support groups, complications, prevention, and more.
At any time, you can tap the Call Urgent Care button to be connected to a registered nurse in your state (who can then have the doctor call you) for $3.99 which is a lot cheaper than having your roommate haul you to the ER. The app also provides additional security by way of a personal PIN protecting your medical information.
iTriage—Android, iOS (Free)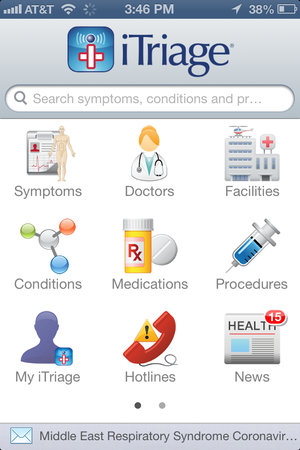 A well-known and comprehensive program created by two ER doctors, iTriage gives a plethora of health care information. Users input symptoms and complaints to discover possible diagnoses and locate physicians in their area—it can even provide the current average wait times at some ER facilities.
You can also use iTriage to set appointments for select providers, access healthcare hotlines, and save whichever healthcare information you desire. You can search for answers to health questions, and learn about symptoms and potential causes while the app helps you find the most appropriate treatment center or doctor. The app can find you the closest hospital, emergency room, urgent care facility, clinic, pharmacy, doctor, community health center, and more.
The Doctor Search features helps you locate physicians quickly, and also provides information on thousands of symptoms, diseases, conditions, procedures, and medications. The app will provide you with the phone numbers to emergency hotlines and physician/nurse advice lines, should you, say, need the number for poison control. You can "check in" from the app when you're on your way to select emergency rooms and urgent care facilities (and get the average wait time), as well as use the Appointment Setting for select doctors, and save your personal health information in the Personal Health Record tab.
Doctors Appointment Reminder—Android, iOS ($1)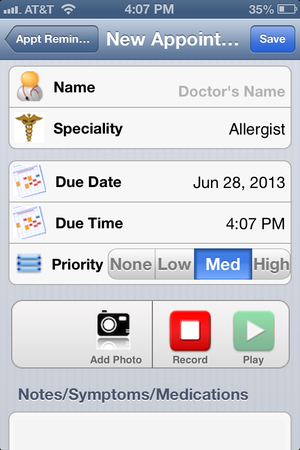 Remembering when you have a doctor appointment and what you need to bring with you can be a challenge—especially if you're seeing multiple physicians. This app aims to solve the hassles of scheduling by allowing users to set an unlimited number of detailed reminders that include doctors' names, hospital and clinic details, and appointment notes. It can also send SMS messages and email to your doctors.
Granted, it cannot provide medical information or health tips, but it can ensure you make your appointments via the real-time alerts. The app manages all types of medical appointments including lab tests, physical therapy, and fitness/nutrition appointments. You can also record voice notes and save photos.
Previous Page 1 2 3 4 Next Page