No waiting rooms, no copay: 6 apps to get a doctor's advice
Because you can't ask Siri, "Does this look infected to you?"
The app has custom fields for medical information you might need to remember, and all data is stored locally on your device, so it's kept as private and secure as your mobile is. It's fairly simple and straightforward: The app asks for your doctor's name, specialty, a due date, a due time, and priority and then gives you options to add photos, play or record voice memos, and make notes. In the upper-left corner there's a box that says ICE+ (In Case of Emergency) where you can list your emergency contacts. Additional tabs store info on your conditions, allergies, and medications, while the bottom menu lets you see upcoming appointments, email them to others, and adjust the notifications.
Online Care Mobile App—iOS (Free)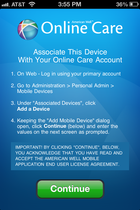 A bonus offering is the Online Care Mobile App from American Well, which lets you send and receive private messages from your doctor, see your test results, and arrange appointments. Physicians use the app to not only send messages and see appointments, but also see who is in the waiting room.
This all sounds great—like the future of both medicine and technology—but the app is intended primarily for physicians. Patients can use this app only through their insurance or pharmacy companies, and providers must be credentialed and have an account with the service. So this is great if your doc is tech friendly and willing to try it out, but for the rest of us it's as elusive as the cure for the common cold.
Previous Page 1 2 3 4