Nvidia's new GeForce GTX 760 attacks the mid-range at $250
Nvidia's $250 GeForce GTX 760 graphics card goes toe-to-toe with an AMD Radeon card that costs $50 more, but ships with a gaggle of games.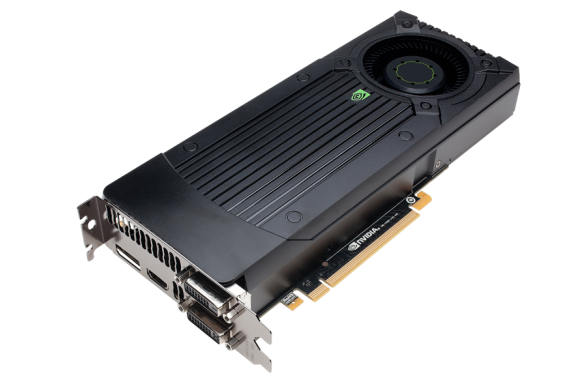 Somebody forgot to tell Nvidia that summer is the time to kick up your heels and relax with an ice-cold mojito.
The company has been on an utter tear the past couple of months, releasing brand new GeForce GTX 700-series cards almost like clockwork: The high-end GTX 780 launched at the end of May, while the surprisingly inexpensive GTX 770 reared its head a couple of weeks later. On Tuesday, Nvidia took the wraps off the GeForce GTX 760, a $250 mid-range card intended to replace last year's GTX 660 Ti—not the GTX 660 as you might expect.
So how does the GTX 760 stack up at $250? Judging by the specs and some initial benchmark reports, the so-called "sweet spot" of graphics cards pricing has never been sweeter.
Taking on the technical
The GTX 760 rocks the same Kepler-based GK104 GPU found in all of last year's GTX 600-series cards (as well as the GTX 770). Compared directly to the GTX 660 Ti, the GTX 760 looks a wee bit different under the shroud, with fewer CUDA cores, higher core clock speeds, and a 4GB memory option. That rejiggering comes at a power price, though: At 170W TDP, the GTX 760's energy draw is 20W more than the GTX 660 Ti's 150W.
Here are some more hard details:
1,152 CUDA cores
980MHz base clock
1,033MHz boost clock
2GB or 4GB of 256-bit GDDR5 memory
192.2 GB/s memory bandwidth
170W TDP via a pair of 6-pin power connectors
Outputs: Dual-link DVI-I, dual-link DVI-D, HDMI, DisplayPort 1.2
And yes, the card can output 4k video signals or rock out in a multi-card SLI rig.
Along with the technical details, the GTX 760 also includes support for all the software you'd expect Nvidia to back, including Direct X 11.1, OpenGL, and Nvidia's PhysX and 3D Vision technologies. You can catch the full list of GTX 760 technical details here.
What's that mean?
Whew! Those were a lot of numbers. How does all that technical mumbo-jumbo translate into real world performance? We haven't had a chance to go hands-on with the GTX 760 here at PCWorld, but the graphics geeks over at enthusiast sites like AnandTech, Maximum PC, and HotHardware have.
All-in-all, the GeForce GTX 760 looks to be a pretty decent card for the money, solidly outperforming the GTX 660 Ti and edging ahead of AMD's $300 Radeon HD 7950 graphics card in many cases—most notably in games that were optimized to favor Nvidia's hardware. The GTX 760 is far from revolutionary, but people with single-screen setups should find a lot to like in Nvidia's new "sweet spot" graphics card, especially if said screen is at 1080p resolution.