Oculus Rift VR headset review: The magical, yet unfinished birth of virtual reality
Virtual reality is finally here.
This isn't a normal review. How could it be? Today marks the cusp of not just an entirely new technology, but also the culmination of three years reporting on virtual reality. E3 2013, Indiecade, GDC, E3 again (and again), two Oculus Connect conferences, and a bunch more events in between. And now the official consumer-facing virtual reality launch, with—finally—the release of the Oculus Rift.
The slow burn's undoubtedly been weird—maybe even frustrating, from an outside perspective. "Oh great, more news about a technology I still can't buy."
But now you can, and the upshot is that today, having gone through the original developer's kit (DK1), the second generation (DK2), and two prototypes, we know where VR came from, where it is now, and where it's going—assuming, of course, it goes anywhere at all.
I hope it does. The first consumer Oculus Rift release is rife with bugs and steep system requirements, but when it hits its stride, the Rift truly transports you inside virtual worlds, so you're not just playing games—you're experiencing them. It's magical despite some rough edges.
What's in the box?
Let's start with the basics: Hardware.
The Oculus Rift is a virtual reality headset, meaning it's essentially a monitor you strap onto your eyes. Lenses then warp the 2160x1200 image you're seeing—made up of two 1080x1200 OLED screens—so your brain perceives a 3D world. Any 3D world you want (or, at least, that developers have built). Watch movies on the moon! Hang out with a whale underwater! Visit North Korea!
It's pretty amazing, in theory. Limitless possibilities. One step closer to the fabled Star Trek Holodeck.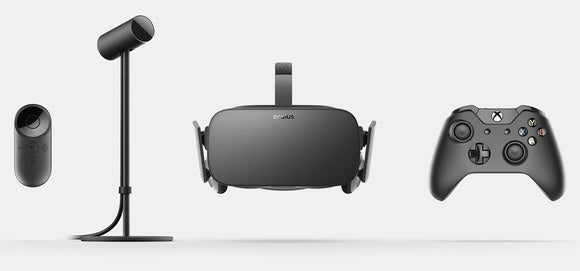 Here's what's literally in the box. Left to right: Remote, position-tracking camera, Rift, and Xbox controller.
We could get into all sorts of technical details here about low-persistence screens, field of view, lens design, and et cetera but I'm assuming if you're nerdy enough to care then you're also nerdy enough to have studied up beforehand. After all, the consumer Rift is merely an evolution of the two Rift developer kits.
The point, insofar as this review is concerned, is that Oculus has done an excellent job reaching the technical goals it laid out two or three years back in its quest to construct compelling VR hardware: a 90 Hertz OLED display, a decently-wide 110-degree field of view, responsive position tracking, and a relatively lightweight and comfortable design.
The latter is particularly important, as design is an important area of distinction between the Rift and competitors. The consumer Rift ditches the old stretchy-headband fit of the first two dev kits and replaces it with a more rigid assemblage of stiff fabric and flexible plastic. It makes the Rift a bit harder to store away, but there are numerous benefits.
It's easier to put on and take off. "Like a baseball cap," as the Oculus reps are fond of saying—as in, you literally put it on back-to-front like a baseball cap. Simple.
It doesn't squeeze your face. The DK2 was already better in this regard than the original dev kit, but the consumer version is another leap forward in comfort. You'll still be left with telltale lines on your face after a VR session, but I've been able to wear it for hours at a time without my nose feeling sore.
Despite the looser fit, the Rift stays in place surprisingly well as you toss your head hither and thither in search of murder mystery clues/zombies/hidden coins/what have you. I've had to adjust the headset periodically but after a while it becomes subconscious, like pushing glasses up your nose.