Oculus Rift VR headset review: The magical, yet unfinished birth of virtual reality
Virtual reality is finally here.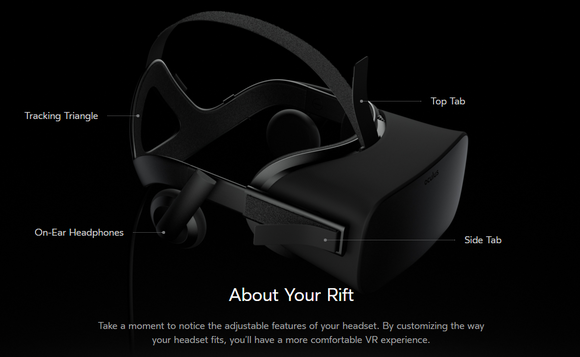 Other points in Oculus's favor: You can quickly adjust the lens focus by moving a knob on the bottom of the headset. And the Rift has headphones built into it! I thought this was frivolous when Oculus announced it—after all, I have studio-grade headphones sitting around my apartment. But never underestimate human laziness. Oculus's headphones are "good enough" for day-to-day use and it's convenient to have the whole contraption all in one piece.
I'm a bit worried about the placement of the headphones, though. When you put the Rift down on a desk, the back edge rests entirely on the headphones, and they don't seem especially sturdy. I've debated whether I need to buy a mannequin head to store the Rift long-term.
Which brings us into the negative portion of this hardware assessment. Let's start with the camera. Oculus's external position-tracking camera works by measuring infrared LEDs on the headset, some of which are now built into the rear of the Rift. However, I found the positional tracking to be slightly less accurate when your head's turned away from the Rift than when you're facing the camera straight-on, and there's still occasionally a jarring leap when you spin 180 degrees.
Furthermore, the Rift's camera doesn't actually track that large a space. It's generally big enough for Oculus's original goals—seated VR. But it's clear that standing VR and room-scale VR in HTC Vive-esque fashion was (or maybe still is) an afterthought for Oculus. The amount of space tracked by the Rift camera is small, and makes standing-centric games like Farlands a bit of a chore as you try to stay inside the Rift's bounds.
It doesn't help that Oculus never really explains where the Rift's camera should be placed. The DK2 Rift camera mounted on top of a monitor; it was clear where Oculus expected it to go. The consumer Rift ships with the camera mounted on a pole, like a miniature desk lamp. I have no idea where to put it. On the edge of my desk so it tracks more of the floor? On the rear of my desk so I don't casually knock it over? And what angle should it be mounted at?
After a bit of fiddling I think I finally have it in an optimal position for my space, but it's not as set-up-and-go friendly as the design first indicates when you pull it out of the box.
Other issues persist too. As with all VR headsets, residual heat builds up in the display, and though the Rift never became uncomfortably hot I definitely appreciated the cool, cool breeze against my face when I'd take it off. The tether on the Rift is another sore spot. It's lightweight, but it's also short—much shorter than the Vive's—and tends to get hooked under stuff with obnoxious regularity.
Previous Page 1 2 3 4 5 6 Next Page