Oculus Rift VR headset review: The magical, yet unfinished birth of virtual reality
Virtual reality is finally here.
And there are no controls built into the headset itself. I'm a bit disappointed because, like the headphones, it's helpful when you're strapping something over your eyes to have it all in one piece. Instead, the Rift ships with a small black remote for simple Oculus Home tasks and low-end games/experiences. The remote's a fine piece of hardware but has a tendency to get lost as soon as it's set down, especially since, you know, you have a VR headset slapped over your eyes and blocking out the real world.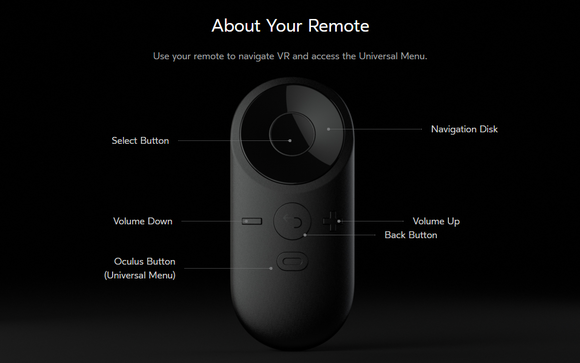 Your other input alternative (until the hand-tracking Oculus Touch controllers release later this year) is the Rift's packed-in Xbox One controller and...well, it's an Xbox One controller. I understand Oculus wanted a baseline for developers to aim at, but it's not exactly an inspiring piece of hardware for VR. If this is the default controller for the Rift, however, then Oculus needs to set some standards—for instance, codifying the "Back" button (or whatever it's called on the Xbox One) as the "Reset Orientation" button. Some games use that, but other games use the Y button, and still others rely on the software-button built into the Oculus menu. It's a mess.
Die in real life
Ah, the Oculus menu. The perfect time for us to start talking software.
Oculus has built its own little walled garden for the Rift—a storefront, an app library, a firmware updater, a friends list, a virtual environment. And it all comes together in Oculus Home. Put on the Rift and you'll find yourself in a faux-living room, voxel fireplace crackling merrily. The room is dominated by massive floating menus which let you buy apps, install apps, and launch apps from inside the Rift. Or you can take the Rift off and do the same from a more traditional mouse-based environment.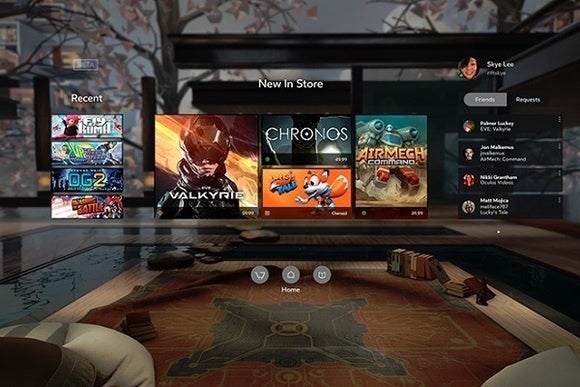 This is your new living room.
Home is fine. The Oculus Store is fine. It's all fine. It's aesthetically pleasing, it's easy to use, and the omnipresent pause menu is just as useful as the Steam overlay.
But it's not Steam. And I don't just say that in the "I want all my games in the same place" way, though I'm certainly guilty of that line of thinking. The bigger issue is that Oculus doesn't even duplicate Steam's basic functionality, stumbling in several small, but crucial details.
There is, for instance, no way to install games to anything except the C: drive at the moment. That's crazy. In an age where many high-end users are running Windows itself on a 128GB or 256GB SSD, Oculus co-opting all the remaining space is inexcusable when I have 4TB of additional storage in my machine. This problem is supposed to be remedied within two or three weeks—fine—but it demonstrates Oculus's inexperience in digital games retail.
Previous Page 1 2 3 4 5 6 Next Page