Oculus Rift VR headset review: The magical, yet unfinished birth of virtual reality
Virtual reality is finally here.
Installations are also a resource-suck. Downloading data often introduced noticeable slow-down to my machine, and the actual installation would grind even something as simple as "writing in Notepad" to a halt, taking over my entire processor for the last few steps. I also suffered a crash in the middle of an installation, and the Oculus Store didn't recognize that it'd already downloaded 20GB of data, forcing me to delete the files from the Oculus directory manually and redownload the entire game.
Speaking of which, my processor apparently doesn't "Meet Rift's recommended specifications." How do I know? Because there's a huge banner at the top of the storefront that's impossible to dismiss. This despite the fact that my overclocked Core i5-3570K (a.k.a. the standard gaming-build processor for many years) is faster than the recommended (non-overclockable) i5-4590, and my GeForce GTX 980 Ti more than picks up any slack. Instead of rating compatibility by actual performance like Valve's SteamVR Test, Oculus tests compatibility by comparing systems to a list of "acceptable hardware," so despite having zero in-game slowdowns all week I'm stuck with this persistent warning in every menu.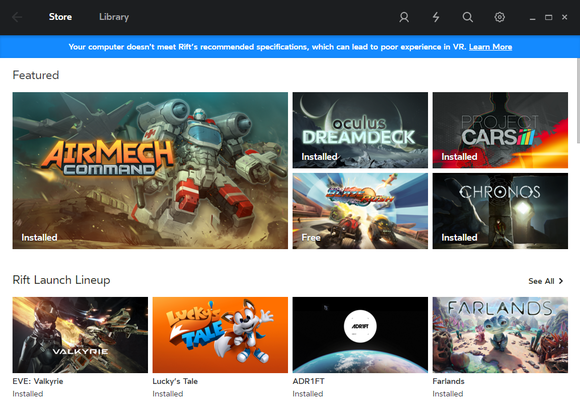 Notice the beautiful blue bar. The warning shows up in the virtual Oculus Home also, as well as the Oculus overlay/pause menu.
And bugs. In addition to the installation crash above, I've also woken my computer from sleep multiple times to find the Oculus unresponsive. The solution is to close out the Oculus software and relaunch—pretty simple—but come on. Oculus Home is a walled garden for your own hardware. I at least expect basic functionality like "Knowing the Oculus is properly attached" to work on cue.
These problems will be sorted out though. Lest we forget how buggy Steam was at launch, I'll give Oculus the benefit of the doubt and say within six months the looming technical hiccups will be gone.
The bigger question is how the Oculus Store will operate in the wild. When can we expect new software? What are the notable "Upcoming" titles? Writing this on Sunday, I see at least two big Oculus-ready apps—Virtual Desktop and Bazaar—that show up on Steam for Monday's Rift launch but aren't currently included in the "Rift Launch Lineup" section on the Oculus Store. Why? And when will those games get added? How hard is it for developers to get games/apps approved through Oculus?
And if I bought a Rift-ready game from Steam, rather than the Oculus Store, do I need to click the "Allow apps that have not been reviewed by Oculus to run on my Rift" button in the Options menu? Will Oculus make that clear to purchasers? And can I then add shortcuts to those Steam games in Oculus Home?
Previous Page 1 2 3 4 5 6 Next Page