Over-the-air software coming soon to your next car
OTA software upgrades will not only affect your entertainment system but power train and vehicle safety systems.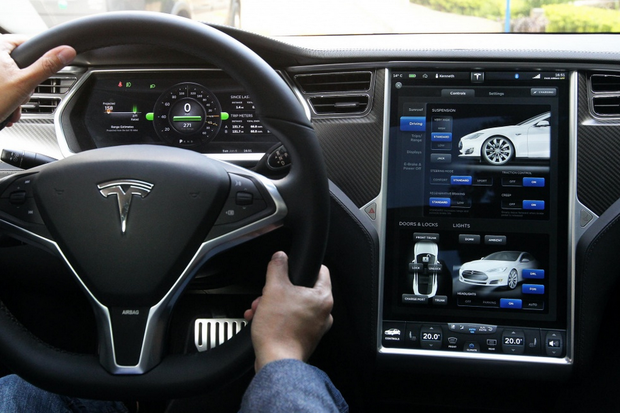 The Tesla Model S's 17-in infotainment screen.
Using a capability that is unique in the auto industry, Elon Musk last week tweeted that over-the-air (OTA) software upgrades would soon come to its P85D Model S sedans as the cars sat in garages and driveways around the world.
While Tesla Motor's powertrain upgrade via OTA software may be a first, it's a feature that most automakers are hoping to adopt because it will improve customer satisfaction and slash costs.
In fact, consumers soon may consider it outrageous that they must either download to a thumb drive or travel to a dealership to have their vehicle's software updated. Imagine having to go to a retailer to upgrade an application on your smartphone or tablet.
Like a smartphone, the car is quickly becoming a consumer electronic mobile device - the largest one. And OTA upgrades will be standard.
"As a manufacturer, you'll have to have it to even be considered by the consumer," said Thilo Koslowski, vice president and automotive practice leader for market research firm Gartner. "We'll see a lot more OTA software in the next 12 to 18 months."
Research firm IHS expects most, if not all automakers, to offer fully fledged OTA-enabled platforms that encompass every vehicle system - from infotainment, safety, comfort, and powertrain -- in three to five years.
For example, one of the largest vehicle infotainment system makers, Harman, recently announced the acquisition of Red Bend, a provider of software management technology for connected devices and OTA software and firmware upgrades.
OTA software updates also involve vehicle safety. Vehicle software recalls are common, and car owners often don't bother to bring their vehicles to a dealer to get the updates, leaving them vulnerable to the defect.
Tesla's OTA upgrade bumped up the all-electric Model S's 0-60mph speed by about one-tenth (0.1) of a second. Tesla CEO Elon Musk tweeted about the upgrade, saying it was an update to the inverter algorithm. An inverter changes direct current electricity to alternating current.
"We have a software and firmware team that packages updates. The packages are matched to a VIN [vehicle identification number] to ensure the car has the required hardware to receive all relevant updates," a Tesla spokesperson said in an email reply to Computerworld. When a software update is sent OTA, the Tesla driver simply receives a message on the touch screen of the Model S that the update is available.
"The experience is similar to downloading the latest software upgrade for a smartphone," the Tesla spokesperson said.
Tesla is better positioned than most automakers to offer OTA software upgrades, particularly ones that affect the powertrain and not just the infotainment or navigation system. That's because all of the Model S's electronic control units (ECUs) can be centrally accessed as part of the vehicle's telematics system. On most vehicles, there are hard firewalls between ECUs that serve navigation systems, entertainment units and powertrain s.