Profile: Sony Ericsson Xperia Play smartphone
Gaming with your phone has just gotten 10 times better thanks to the Sony Ericsson Xperia Play.
Games, games, games
When it comes to playing games, the Xperia Play is without equal among smartphones. Having a physical gamepad instead of a virtual one gives the user much better control when playing games. And because the Play is PlayStation Certified, you can download and play classic PlayStation games from the Android Market; the Play is also the official mobile handset of Major League Gaming.
All of the preloaded games made good use of the slide-out touchpad, though not all were fun to play. Madden NFL 11 looked terrible and wouldn't let me use the touchpad to select plays or navigate some of the menus. Bruce Lee Dragon Warrior was another disappointment, due to a significant lag between when I input a command and when my fighter actually performed the instruction. Asphalt 6: Adrenaline and Crash Bandicoot were the games I ended up playing the most because they took full advantage of the hardware. Asphalt 6 is a great-looking racing game with responsive controls and a wide variety of game modes. Crash Bandicoot was just the way I remember the original version on the first PlayStation, and it played buttery smooth.
Camera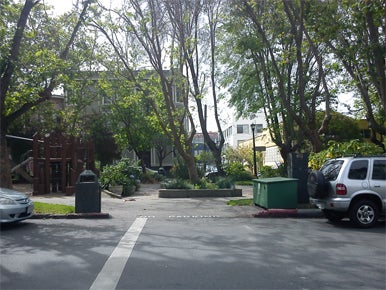 The rest of the phone, unfortunately, is lackluster on the multimedia front. The 5-megapixel camera on the rear of the device does an average job at capturing images and uses the stock (and somewhat underwhelming) Android camera software. Images, like the one on the right, weren't especially sharp, and colors were slightly darker than they appeared in real life. Videos looked better but were a bit on the quiet side.
The Play's sound quality was weak. The external speaker popped at higher volumes, and bass-heavy songs lacked emphatic sound.
Conclusion
The Xperia Play will appeal to mobile gamers who are sick of poor touchscreen controls and are looking for a more fulfilling gaming experience on their phone. Currently, only a handful of games are optimized for use with the gamepad, but more game developers may support it in the future, since the APIs for physical game controls are included in the Android 2.3 SDK. Users who aren't big into gaming, however, should look elsewhere. The Play's relatively outdated hardware, microscopic memory, and lack of 4G support are enough to keep most smartphone buyers away.
Previous Page 1 2 3