Profits dip again for Apple, while iPhone sales beat record
Apple's profits fell for a second consecutive quarter, even as the company enjoyed record iPhone sales for the April-to-June time period.
Apple's profits fell for a second consecutive quarter, even as the company enjoyed record iPhone sales for the April-to-June time period.
For its fiscal third quarter ended June 29, Apple reported sales of $35.3 billion, with net profit at $6.9 billion. That translated to earnings of $7.47 per diluted share. Apple's revenue marked a record for the June quarter, ticking up 1 percent from the $35 billion Apple posted in last year's third quarter. Still, profits fell 22 percent year-over-year, down from $8.88 billion in 2012. Apple also reported a drop in profit during its fiscal second quarter of 2013.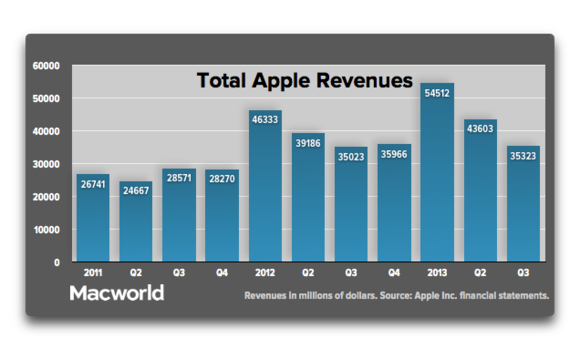 Apple's performance for the third quarter topped analyst expectations. Analysts were looking for the company to earn $7.32 a share on $35 billion in revenue.
With a tiny increase in revenue but a drop in profit, you'd rightly conclude that Apple's gross margin dropped: For the quarter, it was 36.9 percent, versus 42.8 percent on the year-ago quarter. That's because Apple's most popular products now have lower margins than the top-sellers a year ago.
Apple says international sales accounted for 57 percent of its revenue for the quarter.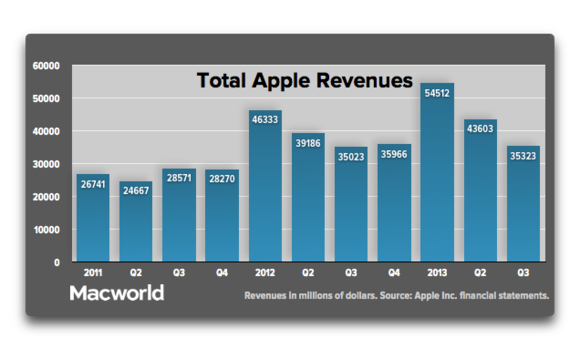 The company also says it has issued $18.8 billion in cash to shareholders through dividends and buybacks.
While Apple generally keeps a tight lid on future product announcement, company officials did reiterate a point made during its second-quarter earnings announcement in April--that the company plans to roll out new products starting this fall and into the next year. "We are laser-focused and working hard on some amazing new products," CEO Tim Cook said in an statement accompanying Apple's earnings announcement."
iPhone stays strong
Apple says it sold 32.2 million iPhones--a record for the June quarter. That's up from 26 million iPhones in the year-ago period. For the U.S., iPhone sales rose 51 percent year-over-year, Apple says.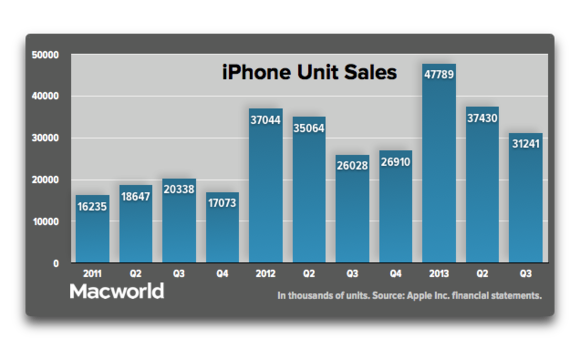 "iPhone 5 remains by far the most popular [phone], but we're also very happy with sales of iPhone 4 and 4S," chief financial officer Peter Oppenheimer told analysts during a Tuesday conference call. Those older phones, of course, are lower-margin devices, since Apple charges customers $200 or $100 less for those phones, respectively, compared to the iPhone 5.
Oppenheimer said that iPhone sales remain ahead of expectations, and that Apple is particularly pleased with the iPhone's strong year-over-year growth in both developed and emerging markets. Apple says that ComScore shows the iPhone holds the top spot in the U.S. market for the three month period ending in May, with a 39 percent share. And the iPhone is the top-selling smartphone in Japan, and the top or second-best selling smartphone in most markets IDC tracks.