Profits dip again for Apple, while iPhone sales beat record
Apple's profits fell for a second consecutive quarter, even as the company enjoyed record iPhone sales for the April-to-June time period.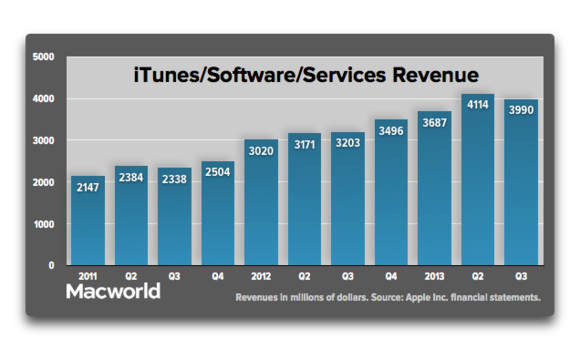 Oppenheimer said that Apple now has over 320 million iCloud accounts, and 240 million Game Center accounts.
As for brick-and-mortar retail efforts, the Apple Store saw revenue of $4.1 billion for the quarter, virtually unchanged from the year-ago quarter. Oppenheimer reported that Apple saw 16,000 visitors per store each week.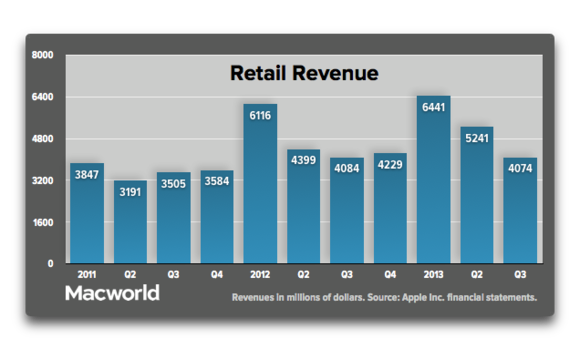 For the quarter, Apple had an average of 405 stores, with average revenue per store at $10.1 million--down $1 million from the year-ago quarter. Apple opened six stores across five countries during the quarter, giving it 408 stores around the globe; 156 of those outlets are outside the U.S.
The company plans to open nine new stores during the September quarter, giving it 27 new openings during the 2013 fiscal year. It's not just about new stores, however: Apple says that it relocated four of its stores to more appealing spots; it will complete 23 such relocations before the end 2013 fiscal year in September.
Eye on China
China has been a particularly critical part of Apple's business in recent years, but that took a hit in the third quarter. "China was weaker" in this quarter, Cook acknowledged, but maybe not as weak as it might seem at first blush, he argued. "Our sell-through in China was only down four percent from the year-ago quarter, when you normalize for channel inventory," he said. Hong Kong drop was worse, though mainland China was up five percent year over year, "but that's a lower growth rate than we have been seeing," Cook added.
"I attribute that to many things, including [the fact that] the economy there clearly doesn't help us there or others," Cook said.
Still, China drove $4.9 billion of revenue--about 14 percent of the company's earnings--Cook pointed out. "And a few years ago, that was within the hundreds of millions. We have a very strong market there." He added that year-to-date, iPad sales are up 48 percent in China year over year, and half a million developers in China are working on iOS apps. He also said that Apple would double its number of retail stores in China "over the next couple years."
Cook said that Apple will continue to work to boost iPhone and iPad sales, "both of which are currently lower then where we would like or need them to be. We're doing that very cautiously, because we want to do it with quality." He added that, "over the arc of time, China is a huge opportunity for Apple, so don't get discouraged over the 90-day cycle with economic factors."
Paying dividends
Apple's not done returning cash to investors. The company's Board of Directors has announced another cash dividend, this one at $3.05 per share of common stock, payable on August 15 to any shareholder as of August 12.
Previous Page 1 2 3 4 Next Page