Razer Tartarus Review: Half a keyboard for the exact same price
Razer's latest gaming keypad is a well-made piece of hardware you almost certainly don't need.
Razer might argue that the ability to program the Tartarus makes up for its lack of keys, and in a sense they would be right: configuration options abound as the Tartarus, like most Razer products, is customizable with Razer's Synapse software.
Some customization required
If you've ever used a Razer product in the past you're probably already familiar with Synapse's pros and cons. The app is flashier than it needs to be but highly customizable- letting you bind any key to a macro and letting those macros and keybinds talk to other Razer products so that you could, for example, press a key on your Razer mouse and swap key configurations on your Tartarus. If that sounds a little intimidating, it is; the customization options can get confusing, and it takes time to learn to use them properly.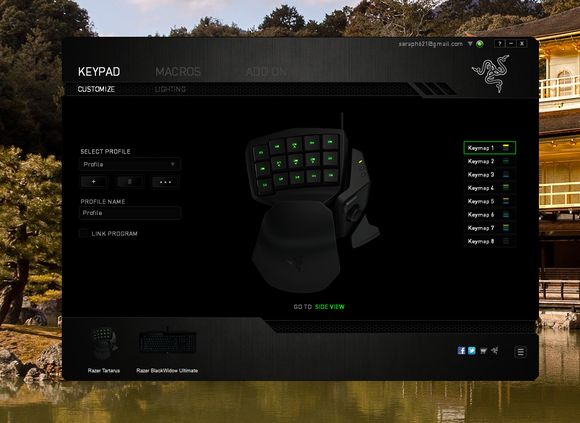 Thankfully, customizing the Tartarus is a breeze in the Synapse interface.
The best and worst feature of Synapse is that using it requires you to register an account with Razer. It's the best feature because you only have to configure your Razer products once; those configurations are automatically saved to the cloud and downloaded automatically when you install Synapse on other computers, so you never have to configure a product twice no matter how many computers you hook it up to.
It's the worst feature because the registration isn't optional; if you want to use Synapse to configure a Razer product or take advantage of advanced product features like illumination controls or programmable macros, you have to register with Razer.
Since the Tartarus is a little bit outside of my gaming hardware comfort zone I tried to make the learning process easier by using Razer's Tartarus WoW addon. This lets you customize your keybinds in-game rather than swapping back and forth from Synapse to WoW which, in theory, should speed things up. Doing so taught me a few things about how Razer envisions players using the Tartarus; most importantly, Razer actually wants you to use the middle six buttons for movement, just like a regular keyboard configuration, and then use the thumbpad to swap between four key configurations on the fly, letting you multiply the 9 remaining buttons to 36 potential commands.
This alternate keybind configuration didn't really help matters though. Besides it being an awkward play-style to adjust to (where did I put my taunt again? Oh right, it's thumbstick down + key 9), the WoW Tartarus addon simply isn't very good. It doesn't play that nicely with other WoW addons, and it took me ten minutes to figure out I had to turn off another user interface element to even find the configuration button.