Razer Tartarus Review: Half a keyboard for the exact same price
Razer's latest gaming keypad is a well-made piece of hardware you almost certainly don't need.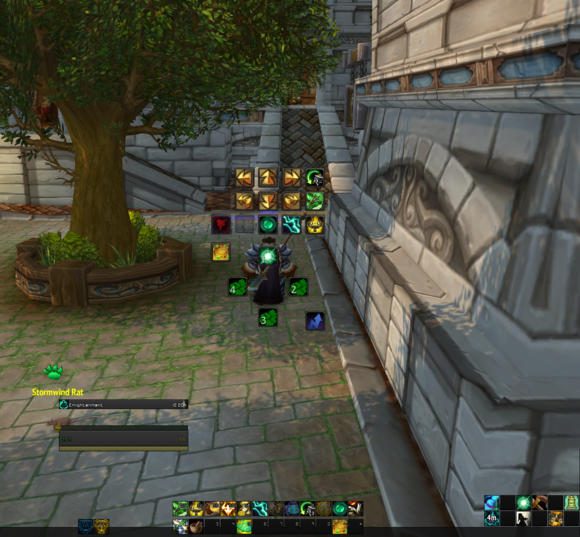 There's a Tartarus addon for WoW, but it's not very useful or attractive at this point.
Once I had that working I learned that the Tartarus' WoW addon user interface wasn't particularly customizable. There was no option I could find to turn off only part of the add-on's display, so I was stuck looking at the useless bottom half of the overlay. Worse, there was no way I could find to use the addon to map buttons to basic WoW functions like, say, opening up menus, so I ended up needing to exit out of the program and configure with Synapse directly anyway.
My colleague Nate Ralph reviewed the Higher-End Razer Orbweaver earlier this year and came away feeling it too was a solid, if unnecessary, addition to Razer's line-up of gaming peripherals. All of his critiques apply here as well, and they're exacerbated by the Tartarus' comparative lack of features. Even with access to the Orbweaver's 20 keys, Nate had trouble mapping all the things he needed.
Instead of just lopping off the right half of the keyboard, the Tartarus goes one step further and effectively does away with the 1-5 keys to boot. With just 3 rows of buttons on the keypad, I found myself constantly gravitating back to my traditional keyboard every time I was out of combat. It was the only way I could access enough buttons to open my bags, hop on my mount, or chat with my friends without any difficulty.

RAZERThese keys aren't mechanical, and that's to be expected given the Tartarus' low price, but it's still kind of a bummer.
A smaller nitpick that most userse won't notice: the Tartarus also lacks the Orbweaver's mechanical keys. It's a subtle difference, but if you're a mechanical keyboard user like me, it's there.
Bottom line
Of course, with missing features comes a much lower price tag: the Tartarus knocks $60 dollars off of the Orbweaver's $130 price. The problem is that $70 is still a lot to ask for an extraneous piece of hardware you'll essentially have to use in concert with a regular keyboard. The paucity of keys on the Tartarus can be ameliorated somewhat by using an MMO gaming mouse festooned with buttons, but that requires you to spend even more money on hardware.
Still, if you've become accustomed to this style of play by using earlier gaming keypads like the Nostromo, upgrading to the Tartarus is a worthwhile investment. I've used a Nostromo in the past, and the new Tartarus is both more comfortable and more functional. In the end though, I've never found a reason to use either for very long; you're better off with a highly configurable keyboard. Hey, doesn't Razer sell a few of those?
Previous Page 1 2 3