Replacing Messages: Three alternative apps for iOS messaging
Dissatisfied with Apple's Messages? There are other messaging apps for iOS to choose from. And while they might not be able to completely replace Messages, they could teach it a thing or two.
WhatsApp has five main tabs. The first, Favorites, is a list of your stored Contacts who also have a WhatsApp account, so you know who you can contact using the app. Next is Status, which lets you alert your contacts on whether or not it's a good time to chat. Contacts links to your entire contacts list stored in your iPhone; you can tap a contact and send them a WhatsApp invitation if you'd like to encourage more contacts to try the service.
Chats shows a log of all of your current chats, and it's also the place to go if you want to send a new message. Tap a conversation to continue chatting in that thread, or start a new message by tapping the box in the top-right corner. You can also broadcast a message to all of your WhatsApp contacts, or create a group chat.
Settings lets you configure your WhatsApp profile with an image and a username. It also contains settings for font size, message timestamps, how to handle incoming media, blocking users, and setting up a wallpaper.
Messaging itself is a pleasant experience. I enabled Push Notifications, so I get a ping whenever I have an incoming WhatsApp message. Messages have a similar layout to iMessages, with a staggering back-and-forth between each exchange. Your messages are on the right, while those of your chat partner are on the left. When you successfully send a message, you'll see a small checkmark next to its chat bubble; when you see a second checkmark, it indicates that it has been received and read by your friend on the other side. If you're actively having a conversation, you can see when the other person is typing.
WhatsApp handles multimedia messages really smoothly. You can capture a new photo or video to send (or pull one from your Camera Reel), send an audio note, share a contact, or share location. Location sharing is really handy for organizing a meet-up with friends.
I love the data/Wi-Fi only approach to WhatsApp, but of course that leaves me in a sticky spot when I'm in a place without a connection. I only wish there was a way to integrate the WhatsApp platform and approach with Messages as a whole.
Kik: just the basics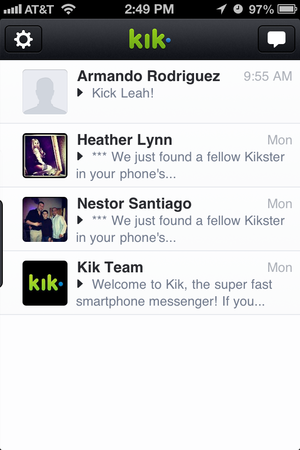 Kik has a unified inbox with friend requests, messages, and other notifications.
A close second is Kik Messenger, a messaging platform that lets you send notes to other Kik users. It's not as full-featured as WhatsApp, but is available on the same platforms: iOS, Android, Windows Phone 8, and BlackBerry.
Kik requires your name, email address, and phone number, along with a username and password to get started. (Don't worry--your phone number and email address are kept private by default.) Upon install, Kik searches through your iPhone's contacts to find other Kik users for you to message with.
Previous Page 1 2 3 4 Next Page