Replacing Messages: Three alternative apps for iOS messaging
Dissatisfied with Apple's Messages? There are other messaging apps for iOS to choose from. And while they might not be able to completely replace Messages, they could teach it a thing or two.
The main Kik landing page acts as a sort of inbox. It keeps a log of current chats, notifications of your stored Contacts joining Kik, and messages from the Kik Team with info about the app. Tap the speech bubble in the top-right corner to start a new chat or search for other users, or tap an existing conversation to continue the thread.
The chat experience is pretty smooth. Kik stores your entire conversation thread, with your messages on the right and your partner's responses on the left. Like WhatsApp, when you send a message successfully, a small checkmark appears next to your speech bubble; when your friend reads it, a small letter "R" appears next to the check mark.
Sending multimedia messages is quick and painless as well. Tap the plus sign next to the text box to access your Camera Roll or to take a new photo. Kik also has a small library of emoticons, if that's something you're interested in, and you don't have the iOS emoji keyboard installed.
But Kik's most unique offering is its interactive extra features. If you slide to the left from your main inbox and tap More, you can access a number of additional attachments, like YouTube videos, Reddit Pics, sketches, and memes.
Kik has a solid offering of customizable settings. Here, you can block users from contacting you, pick your Notification preferences, and set the color of your speech bubbles.
Snapchat: Blink and you'll miss it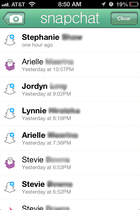 Snapchat also has a unified inbox, with a list of your recent activity.
Snapchat is all about picture messaging, and as such, I wouldn't really consider it as an iMessage replacement. However, this widely popular app is fun to use and rapidly growing in App Store downloads, so we shouldn't count it out.
Like the others, Snapchat searches through your contacts to find other Snapchat users, who you can then add to your Friends list one-by-one. To send a message, just launch the app--it automatically loads with the camera turned on. Take a photo, then add a caption, scribble on it, and set a timer between one and ten seconds. Tap the check box next to the timer control to save the photo to your Camera Reel; there's no way to pull photos from your Camera Reel to send as a Snap, but you can save photos taken within the app. Hit send, and select a contact. Snaps can be either photos or videos.
To make the most of Snapchat, you'll want to enable Push Notifications. To view an incoming Snap, tap the Push Notification to launch the app, and then tap the inbox icon in the bottom left corner. When you have a new message, this is highlighted in a bright pink. New Snaps will be at the very top of your queue; Tap and hold a Snap to see the message.
Previous Page 1 2 3 4 Next Page