Retail group rips chip-card conversion expense, pushes for PIN security
Even some large merchants face backlogs in getting chip readers certified, advisory group says.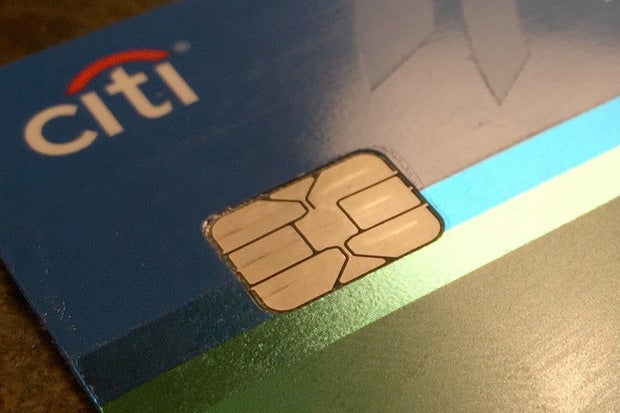 This Citibank credit card has an EMV chip. Credit: Blair Hanley Frank
The top attorney for the powerful National Retail Federation blasted banks and credit card companies on Tuesday for problems and costs with the massive ongoing U.S. rollout of computer chip cards and chip card readers.
Mallory Duncan, general counsel for the NRF, said computer chip cards will initially require customers to provide a signature, instead of a distinct PIN (personal identification number), which won't eliminate online and phone fraud with a stolen or lost chip card.
He also said the financial burden -- now in the tens of billions of dollars -- of making the transition to chip card technology unfairly rests mainly with retailers, not banks and credit card providers.
"We and our customers should not bear the burden for flaws in a 50-year-old [magnetic card] system," Duncan said in a conference call with reporters on Tuesday. The transition to chip cards and chip terminals has "been all stick and no carrot and [the technology] doesn't work... We would like it to work and we want a secure payment system." The NRF is the largest retail association in the world, with 18,000 members.
The conference call was timed with Thursday's deadline for thousands of U.S. retailers to have installed payment terminals that can read computer chips on chip cards. Meanwhile, banks are sending credit and debit chip cards to their customers to replace less-secure magnetic stripe cards.
Retailers who have not installed the new equipment by the Oct. 1 deadline will incur the financial liability for fraudulent uses of a stolen or lost card. Banks will incur the liability if the payment terminals have been updated, just as they do today with magnetic stripe cards. Consumers face no liability under the new system.
While fraud with magnetic stripe cards is widely recognized as a problem by U.S. merchants, those retailers are also unconvinced that chip cards with signatures for purchases will be as secure as using a chip card with a PIN.
Chip card technology "is not a panacea for fraud, as advertised by the [financial] industry," said Liz Garner, vice president of the Merchant Advisory Group, who joined Duncan on the call. The advisory group is made up of 94 retailers, including some of the nation's largest, such as BestBuy and Target.
Garner said the financial services industry is using a "half-baked approach" by not insisting on a PIN when using a chip card. "If I walk down the street and maybe lose a chip card, anyone can pick that up and still use it to create fraud [by phone] or potentially in online transactions, which really makes no sense," she said.