Retailers said to be weighing lawsuits over chip cards, fraud-liability shift
Walmart is well ahead on chip credit cards, but still doesn't take chip debit cards.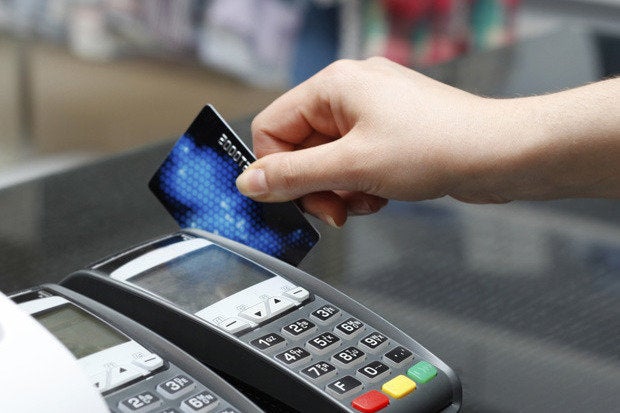 U.S. retailers are contemplating lawsuits against banks and credit card companies over the slow rollout of chip-based card technology and the possible financial liability merchants began facing that started Oct. 1.
Retailers that did not install newer chip-enabled point of sale terminals in stores, restaurants and hotels as of Oct. 1 have to pay an extra fee to cover counterfeit fraud. Before Thursday, banks were liable for consumers' use of magnetic stripe credit and debit cards. The liability shift deadline on Oct. 1 was set by banks four years ago to prompt the use of more secure chip technology to help lower the cost of fraud.
The passing of the Thursday deadline didn't apparently cause any significant problems for store operations, according to comments from five national retail and credit card officials. That's partly because consumers can still use magnetic stripe cards and might not even possess the newer chip cards.
For merchants, the situation is often more dire. Many retailers -- with the notable exceptions of Walmart and some other big chains -- have complained of backlogs of six to nine months in getting card companies to certify their new card terminals for use. Without the certification, retailers can't use their new chip card payment terminals and face extra costs for fraud insurance.
The backlog is unfair to retailers, and is likely to lead to a lawsuit by one or more of the affected merchants, said Mark Horwedel, CEO of Merchant Advisory Group. MAG has 97 members, including some of the nation's largest retailers, that collectively represent $2.6 trillion in annual sales.
"We've been the leading complainer about how the card brands are implementing [chip] cards in the U.S.," Horwedel said in an interview. Card providers and banks "picked the Oct. 1 date without providing a blueprint to merchants on how to process debit transactions with chip cards."
Even though the Oct. 1 date was announced four years ago, it took until last year for banks and card companies to create and clarify specifications for processing chip debit cards, which forced a backlog in seeking terminal certifications, Horwedel said.
Banks and credit-card issues "said you have to do this conversion by this Oct. 1 date and did not give directions on how to do it and dragged their feet and didn't get a plan underway soon enough," Horwedel said. The chip conversion expense was "shoved down retailers' throats... This change [in debit processing] is why there's a backlog. I'm not a lawyer but that factor could be the subject of a lawsuit."
Horwedel added: "Some retailers, especially the smaller ones, are mad as hell about the chip conversion. They are saying things like, 'I helped bail out these big banks in 2008 and now I'm getting their bill for this.'"