Review: 5 Premium noise-canceling headphones for peace and quiet
We take a look at five premium noise-canceling headphones designed to give you some relief from the noise of the outside world.
A unique feature of the ATH-ANC9 is that it offers 3 modes of noise-canceling operation, each designed for a different listening environment. Mode 1 is meant for use when traveling in airplanes, trains, and buses, and it applies greater cancelation to low frequencies in order to reduce the rumble of engines, roads, or track noise. Mode 2 is intended for use in noisy offices or crowded environments, while Mode 3 aims to enhance already-quiet environments such as libraries.
I found the ANC9's noise-canceling circuitry to be very effective in my listening tests, and the different modes of operation worked as claimed. One issue—common among noise-canceling headphones—is that all three modes produce an audible hiss that's annoying when not listening to audio. (The hiss was particularly bothersome to me in Mode 3.) However, the noise generated by the circuitry is much less of an issue when listening to music or spoken-word recordings.
The ANC9's sound quality is good for noise-canceling headphones, with frequency response that's fairly well-balanced. The ANC9 is also lightweight and comfortable, although the earcups are a bit smaller than I'd prefer, and they may apply too much pressure for people with large ears.
Audio-Technica includes a variety of accessories, including a semi-rigid travel case and two detachable 1/8-inch (3.5mm) audio cables. One cable contains a built-in microphone and a single-button inline remote for controlling media playback and phone calls.
The ATH-ANC9 is powered by a single AAA battery that's easily swappable, but you can actually use the ANC9 without power—of course, without the noise-canceling functionality. The bad news is that the ANC9 sounds significantly different when unpowered: The midrange and upper frequencies are quite muffled, and the low frequencies lose focus. You'll want to keep an extra AAA battery handy.
Bose QuietComfort 15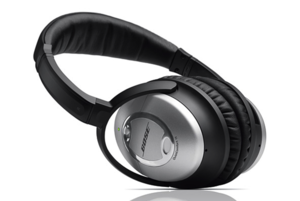 Bose has long been the most well-known maker of noise-canceling headphones, and the $299 QuietComfort 15 (4.5/5 rating), which I'll refer to as the QC15, is the company's flagship circumaural model.
Unassuming is the best way I can describe the appearance of the QC15. The design and build quality is focused on keeping the headphones light and compact. As a result, the QC15 isn't as stylish as some of the other models here, and it doesn't feel quite as sturdy. That's not to say the QC15 is flimsy, but I'd be less careless with it than with a few of the other models.
The QC15's ability to reduce external noise creates an almost disorienting experience—after putting the QC15 on, it was immediately obvious to me why Bose sells so many noise-canceling headphones. Even better, the overall sound quality is very good for a noise-canceling design, with no part of the frequency range significantly lacking or prominent.
Previous Page 1 2 3 4 Next Page