Review: 6 Chrome extensions let you track your Gmail
Want to know if that important email was actually read -- or ignored? These Gmail tools can help.
How it works
Bananatag adds a toolbar below Gmail's email composition toolbar that includes a blue "Track Email" checkbox. Just click this to mark it with a check, and the email you're writing will then be tracked once you click "Send."
Bananatag will send you an email notifying you the first time (but only the first time) that your tracked email is opened, and will send separate email alerts each time the recipient clicks a link inside the track email.
Through your user account page on the Bananatag site, you can get a nice statistical view of your results, including charts that illustrate the rate at which your tracked emails are opened and links inside them are clicked over a customizable period of time.
Free and paid plans
Tracking is free for up to five emails per day. After that, Bananatag offers two paid plans. For $6.25/month, you can apply Bananatag's features to up to 100 emails per day, while $12.50 per month (per user) raises this to 200 emails per day and adds team management features. There is a separate version that tracks and reports on internal emails within organizations; pricing for that starts at $250 per month.
Subscribers also get more detailed information, including the geographic location (country, region, city) where the tracked email was opened or link was clicked and what kind of browser, device (i.e., computer or mobile) and OS was used.
Bottom line
Bananatag's functions integrate into the Gmail UI very well. The charts on your user account page can help you gauge how effectively an email campaign is going, especially if you need to track how often links are clicked in those emails. If you only need to send tracked emails occasionally, the five-emails-per-day limit for free accounts could be more than enough.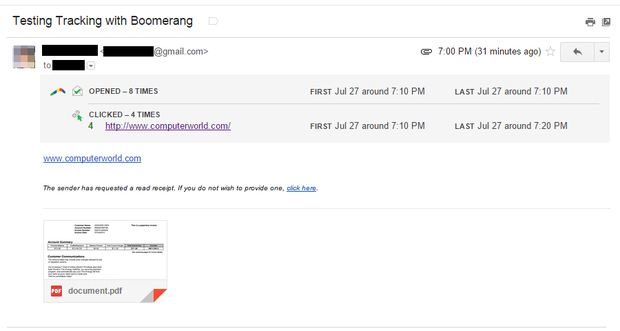 Boomerang adds a status bar to the top of each tracked email that keeps you informed of the number of times the email has been opened or a link has been clicked.
This extension is the most popular of those covered in this article, approaching one million users. I suspect that Boomerang may have gotten all this love for its send-later and remind-later features rather than its email tracking, which has fewer capabilities than some of the others here (such as Bananatag).
How it works
Boomerang appends a toolbar below Gmail's email composition window which includes an icon of a blue envelope with a question mark. Click it, and the following is appended to your email: "The sender has requested a read receipt. If you do not wish to provide one, click here." You cannot delete this notice (unless you decide not to track the email).
Previous Page 1 2 3 4 5 6 7 8 Next Page