Review: 6 Chrome extensions let you track your Gmail
Want to know if that important email was actually read -- or ignored? These Gmail tools can help.
Like Bananatag, Boomerang will send you an email notifying you of the first time that your tracked email has been opened, but the service doesn't send you an email when a link inside your tracked email has been clicked. Instead, you need to check within Gmail -- Boomerang adds a status bar to the top of each tracked email that keeps an updated tally of the number of times the email has been opened and, if the email has a link inside it, how many times that link has been clicked.
As mentioned, this extension has extensive send-later and remind-later features. For example, your email can be set to remind-later if the recipient does not click on a link inside the email, or if they do not open your email -- in other words, if the reminder deadline passes, the email reappears in your Inbox as if it were forwarded back to you.
In addition, on your account page on the Boomerang site you can see a full list of all the emails you've set to be tracked, sent later and reminded of later. Details include how many times an email has been opened and the number of times any link inside it has been clicked.
Paid plans
Boomerang tracking services are free for ten emails per month. There is an Android app and a mobile-site version of Boomerang; however, they can only be used to send tracked emails with the paid version.
The three paid tiers start at $4.99 per month; for that amount, you can track an unlimited number of emails and add mobile access. For $14.99/month, you can track recurring messages from Gmail and Google Apps; while $49.99/month adds a variety of premium business features such as Salesforce integration.
Bottom line
Being able to see opened and link-click counts at the top of a tracked email without leaving your Gmail site is really convenient. Boomerang's limit of ten free tracked emails per month will only work if you need little more than infrequent, personal use. However, if you need to send a lot of tracked emails -- such as a mass email addressed to several hundred people -- then at $4.99 a month for an unlimited number of tracked emails, Boomerang looks like a great deal.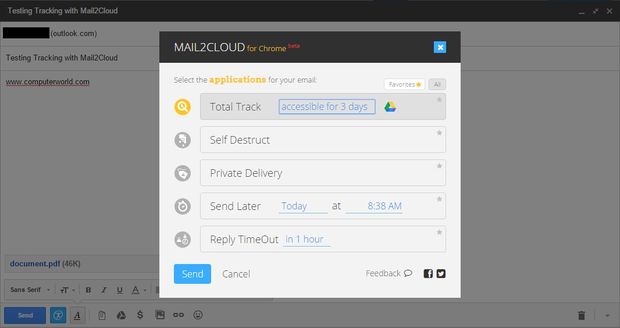 To have an email tracked in Mail2Cloud, you highlight Total Track, choose a time limit for how many days any files you attach can be downloaded, and then click the "Send" button.
Mail2Cloud's most notable feature is that the files you attach to a tracked email can be set so that they can no longer be downloaded by the recipient after 1, 3, 7 or 30 days -- a handy feature for time-sensitive materials. The service also lets you convert an email to PDF (along with archiving whatever files are attached in their original format) and store it in Box, Dropbox, Google Drive or ShareFile.
Previous Page 1 2 3 4 5 6 7 8 Next Page