Review: 6 Chrome extensions let you track your Gmail
Want to know if that important email was actually read -- or ignored? These Gmail tools can help.
In the Gmail main screen, MailTrack also adds two checkmark icons to the left of the sender names in your email list. If the first checkmark is green, it means that the email was sent using MailTrack -- if it's gray, then it was sent without. (Since the option to turn off email tracking comes with the paid plan, in the free plan, the first checkmark will always been green.) The second checkmark turns green to indicate that the tracked email was opened. Hover the pointer over these two checkmarks when they're both green, and a small panel will pop open listing all instances of the email being opened, and what operating system the recipient used to open it.
Your account page on the MailTrack site lists all the tracked emails you've sent, if any have been opened and if so, how many times.
Paid plans
There's only one premium plan starting at $30 for six months and $48 for a year. MailTrack will then track when a link inside your tracked email is clicked, and provide you with a daily analytics report regarding the open and link-click rate of your tracked emails. You'll also be able to turn off email tracking, if you wish.
Bottom line
I love how this extension's checkmark indicators make it convenient to tell, at a glance, an email's tracking status without having to open the email or visiting your user page on the MailTrack site. The pop-up notification cards are also nice.
The real downside: It's a little weird and intrusive that you cannot switch tracking off under a free account. Not only does this raise potential personal privacy concerns, it could also be a problem if you need to send email to someone who uses email through a network or service that blocks tracked emails or flags them as spam.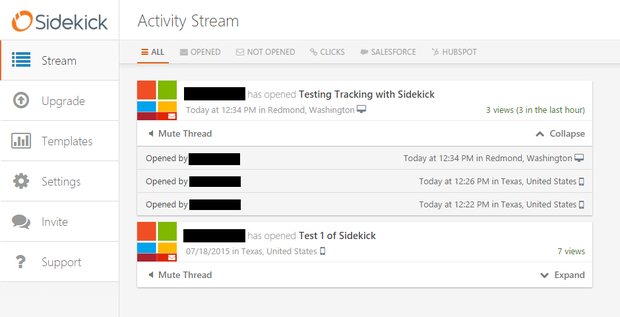 Your user account page on the Sidekick site shows your tracked emails listed as an "activity stream."
Sidekick is the second most popular app in this article, with more than 500,000 users of its Chrome extension. It comes from HubSpot, an online marketing platform, whose email tracking is also available for Outlook and Apple Mail.
How it works
The Sidekick extension adds a checkbox to the right end of the email composition toolbar of Gmail. Clicking it will set the email you are writing to be tracked. Like MailTrack, a notification card will pop up from the lower-right corner of your desktop every time a tracked email is opened; you'll also get a notification in Chrome.
Sidekick also installs a button (showing its logo) on the upper-right of the Chrome browser itself. Whenever a tracked email is opened, a count number will appear over this button. Click it and a small panel pops open that lists the status of your tracked emails, each represented as a card. Clicking "Expand" on a particular card will make it expand downward to reveal a list of all the times that the tracked email has been opened by the recipient.
Previous Page 1 2 3 4 5 6 7 8 Next Page