Review: Ikea wireless-charging furniture is stylish and functional but not without issues
The charging pads can leave your mobile devices rather warm over time.

Riggad desktop lamp ($80) with my iPhone in an Ikea Vitahult wireless-charging adapter case. Credit:IDG
Last spring, Ikea announced it would be selling a wireless-charging collection of furniture with built-in Qi-enabled wireless chargers for compatible mobile phones and adapter phone cases.
Ikea's wireless charging furniture is now entering stores in the U.S. and includes bedside tables, floor and table lamps and desks, along with a DIY kit that lets users embed wireless chargers into furniture of their choice.
Along with furniture, the store is also stocking wireless-charging pads (both single chargers and triple chargers) and six smartphone wireless-charging adapter cases, which are needed since most smartphones don't natively support wireless charging. And, as there are three competing wireless-charging standards, most smartphones won't likely support native wireless charging anytime soon. Ikea's smartphone wireless-charging adapter cases are compatible with the Apple iPhone models 4, 5, 5S and 6, (but not the 6 Plus), and the Android-based Samsung Galaxy (S3, S4 and S5) only.
The Ikea charging cases range in price from $15 to $25. I chose one to test with my iPhone 6.
As shipping a side table would have been bulky, Ikea agreed to loan me the Riggad desktop lamp ($80) with built-in wireless charger, the Nordmarke triple charging pad ($65) and the Vitahult iPhone 6 wireless-charging adapter case ($25) to review.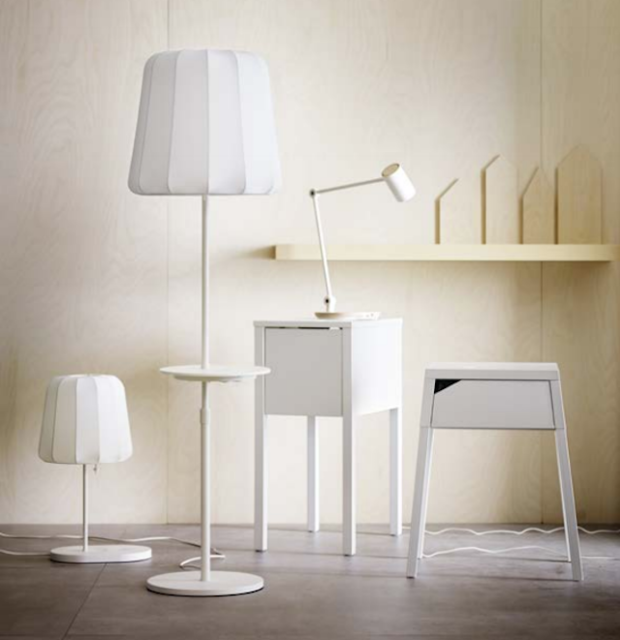 Some of Ikea's wireless charging collection, which range in price from $9.99 to $119.00.
Besides the triple charging pad, you can also buy a single charging pad for $28.
Like all Ikea products, the lamp, pad and charger were solidly constructed and the designs were well thought out.
The Ikea wireless-charging furniture is attractive, coming in bright white on white or white on a natural wood base. The triple charging pad was also made of wood with a natural finish. A white oblong charging surface has three crosses or "Xs," if you like, marking the charging areas.
The single charger on the LED lamp's base similarly had an "X" to mark the center of the charging pad. When wirelessly connected, the charging pad illuminates. This is very handy for ensuring the phone is positioned correctly because the Qi standard allows for little wiggle room in its magnetic connection.
Apart from the wireless-charging insert, I liked the LED lamp; it had a swivel top and base and could be positioned any way I liked. Most importantly, its narrow design takes up little desktop space. The lamp and charging pad also have a USB 2.0 port, so you can charge other mobile devices that don't have wireless power capability.