Review: Ikea wireless-charging furniture is stylish and functional but not without issues
The charging pads can leave your mobile devices rather warm over time.
I found that the lamp and pad charged my iPhone just as quickly as if I'd plugged it into an Apple-spec Lightning connector cable.
While wireless charging removes two simple steps -- plugging and unplugging your mobile device -- it can be quite useful. For example, my Apple Lightning plug has recently started acting up and needs to be wiggled to make an electrical connection to my iPhone 6. With wireless charging, there's no plug, so there's no worry about a plug wearing out.
But not everything was rosey with the wireless charger. For one, my phone got pretty warm over extended periods of time on the charger. That was concerning.
William Stofega, mobile phone program director for research firm IDC, said the heat generated during wireless charging is not cause for concern and is fairly normal even with a wired charger.
"The charging process is not 100% efficient, and due to conductor resistance, some of the heat is generated by electron flow resistance and is converted to heat. At the same time, some of the heat is also generated by the phone's two power transistors during the charging process," he said.
The Ikea smartphone charging case
I was impressed with Ikea's wireless-charging phone case. It's minimal in its design and attractive. Unfortunately, it only come in white. But, if function trumps style in your book, the lack of colors shouldn't concern you.
Best of all, the price is right. My iPhone 6 wireless-charging adapter case cost just $25, which is about average for a smartphone case. Sure, you can pick up a plain case for under $10, but many of the fancier, non-charging cases go for as much as $55.
As is typical of Ikea products, whoever designed the company's Vitahult wireless-charging cover for the iPhone 6 thought everything through. The case has a good feel, with a slightly non-slip surface. The case covers the iPhone's function buttons with flexible material, and my phone stayed snugly inside while charging over the two weeks that I used the case.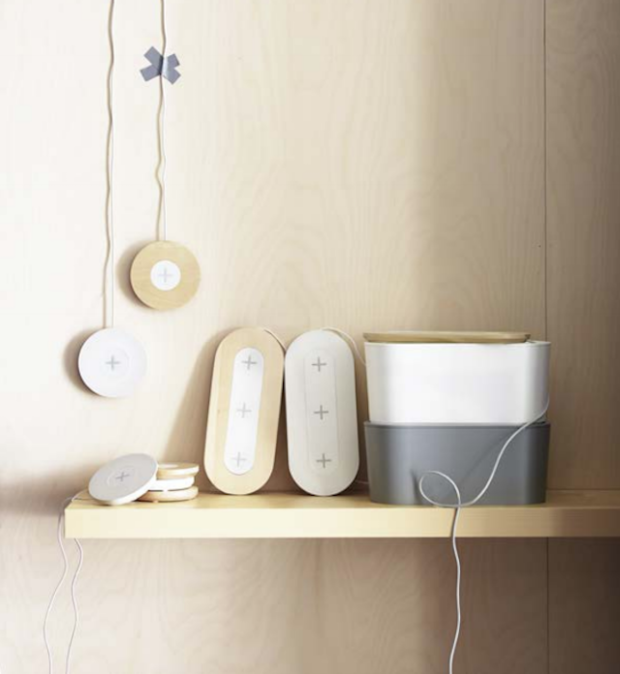 Ikea's line of wireless chargers range from DIY kits to single chargers and triple chargers.
The last wireless smartphone charging technology I reviewed -- the Aircharge Wireless Charging Case -- worked well, but had some fatal flaws: the iPhone 6 charging case felt cheap, and worse, it covered up the Lightning charging/data port on my phone. That meant the only way I could charge the phone with the cover on was via a wireless pad.
Ikea's charging case has a similar, though lesser, flaw. The case connects to the iPhone with a Lightning plug, but then the case itself uses a mini-USB 2.0 port if you want to hardwire it. I honestly don't know why the wireless charging case's design would not incorporate a Lightning port, but you should be aware of this before you buy one.