Review: MakerBot Replicator+ 3D printer fixes some issues, but quality still lags
This 3D printer is 30% faster than its predecessor
No longer a consumer player
With a comparatively high price point -- at least $2,500 (Amazon price) -- the MakerBot Replicator line was never a big seller in the consumer market.
In September, MakerBot CEO Jonathan Jaglom announced the company was "repositioning" itself away from the home and hobbyist market to focus more on selling machines to educators and small businesses -- the two leading arenas for desktop 3D printers, according to analysts.
The completed 6.5-in. tall model of the Eiffel Tower. The Replicator+ was able to complete the task in about five hours.
While the home consumer market isn't booming, 3D printers, materials and services in the U.S. are seeing double-digit growth year after year. 3D printer shipments are expected to experience a compound annual growth rate (CAGR) of more than 16% through 2020, according to IDC's U.S. 3D Printer Forecast, 2016-2020.
Revenue from 3D printing hardware alone is expected to grow from $815 million last year to $1.96 billion in 2020. The largest segment within the 3D printing market is fused filament fabrication, or fused deposition modeling (FFF/FDM) machines. Last year, FFF or FDM printers made up 76% of the 3D printers shipped in the U.S., according to IDC.
While the majority of those printers are at the low end of the market, the consumer segment "has clearly not materialized as many had predicted," IDC said. That's pushing many 3D printer makers to shift toward producing higher-end machines aimed at the education and professional prototyping markets.
So while MakerBot, which was purchased by commercial 3D printer manufacturer Stratasys Ltd. two years ago, is selling the right technology, it has struggled with sales and in the third quarter of 2016 suffered a 29% revenue decline year over year. Stratasys and its chief competitor, 3D Systems, have also struggled.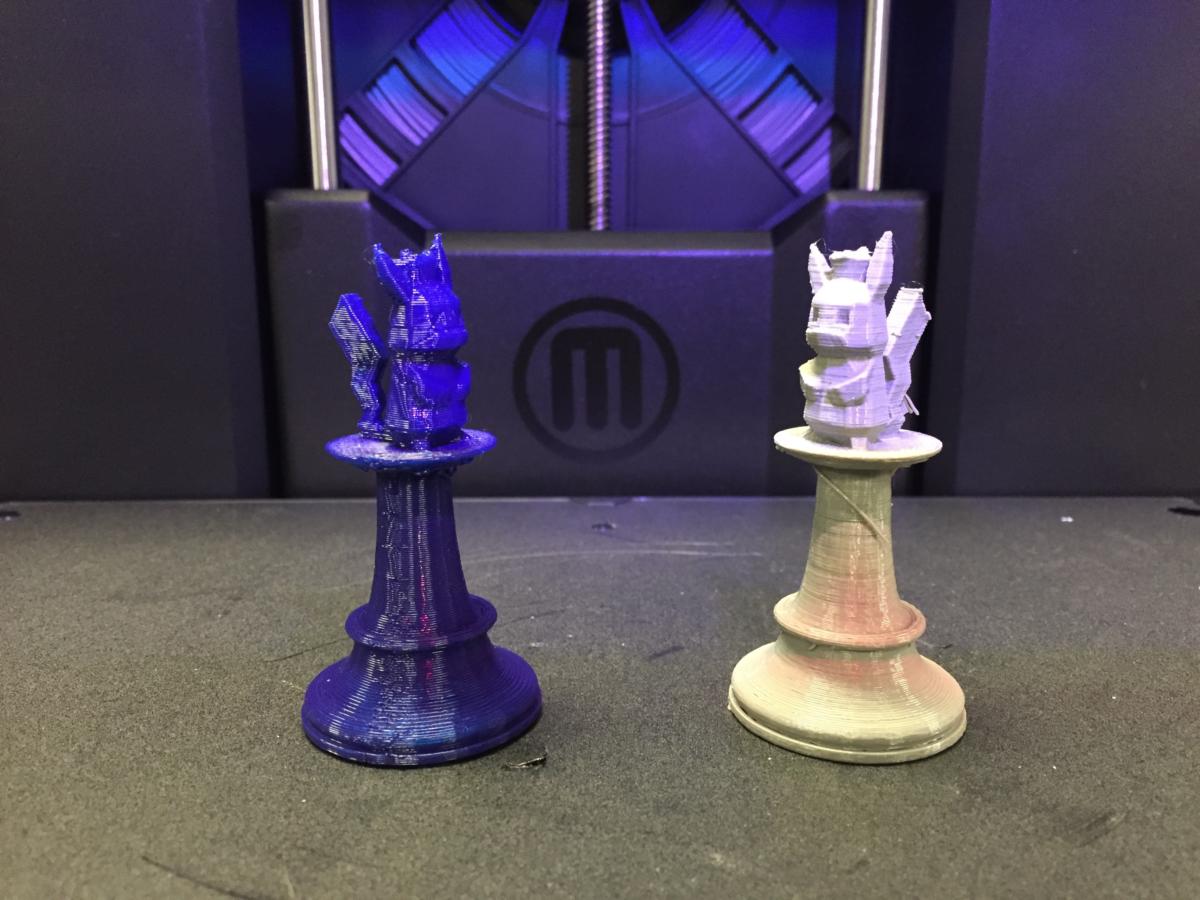 On the left is a Pokemon-style chess piece printed with the $270 da Vinci Mini 3D printer from XYZprinting. On the right is the same piece printed with the MakerBot Replicator+. While the Replicator+ was able to create better detail with more intricate objects -- such as the Eiffel Tower -- on less detailed pieces, the difference was not as noticeable.
FDM 3D printers aren't particularly fast in the first place, because they work with layer upon layer of thermoplastic filament, but some machines are markedly faster than others. The MakerBot Replicator+ isn't one of those. The machine sits squarely in the middle -- it's neither really slow nor really fast.
Previous Page 1 2 3 4 5 Next Page