Review: Pixelmator for iPad is an affordable image editor that packs a powerful punch
You'd be hard pressed to find a more powerful iPad image-editing app than Pixelmator for iPad.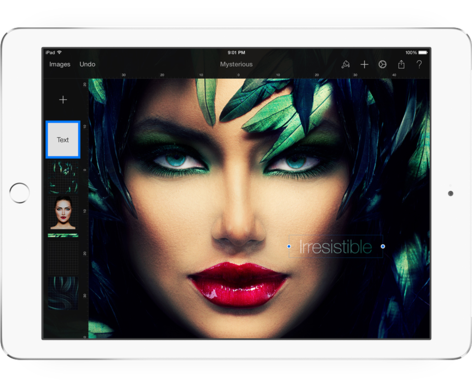 From cropping and straightening to color correcting, retouching, and painting; from creating selections to combining imagery; from blending layers to adding slick effects, shapes, layer styles, and highly customizable text, Pixelmator for iPad truly does it all...for a mere $5.
Released earlier in November, it's not a port of the popular desktop version of Pixelmator; Pixelmator for iPad was designed specifically for the iPad and iOS 8. As a result, it's fast and sports a clean and clever interface that doesn't get in your way. While it doesn't do everything that Photoshop can do, you'll be amazed at the kind of artwork you can use it to create.
Powerful yet flexible editing
To get started with Pixelmator for iPad, open a photo, a blank canvas (up to 4096-by-4096 pixels in size), or one of 38 photo-based templates, into which you can import your own photos and other artistic elements. To date, Pixelmator's templates include six different collages, seven frame effects, seven card designs, six posters, and 12 popular photo treatments ranging from super-slick lighting effects to various vintage looks, and none of them are cheesy.
The whole program is layer-based (think stackable transparencies) so you can resize, reposition, retouch, paint or add an effect to something on one layer without affecting the content of other layers. This makes for an extremely forgiving editing environment that gives you truly creative compositing and photo painting or tracing opportunities.
Practical creativity
Once you pick a starting image (document), you're treated to a wonderfully Spartan editing interface: tools and commands are nestled inside four menus at upper right, with handy Undo and Images buttons at upper left. Your standard iOS pinch-to-zoom and gestures let you zoom into or out of the image as needed.
Tapping the "plus" icon reveals a list of all the things you can add to your image: photos from your iPad's Photos app, iCloud photo stream, iSight or FaceTime cameras, an empty layer, the contents of your clipboard (something you copied into your iPad's memory), eight solid color backgrounds, six gradient backgrounds, or six patterns. You can also add text in a variety of fonts, as well as nine different shapes including a rectangle, rounded rectangle, circle, triangle, diamond, polygon, star, heart, and a line.
The level to which you can customize these elements is amazing. Tap a photo or other element and Pixelmator automatically activates its corresponding layer. You can drag an item to reposition it within your composition--handy guides appear to help you align items with ease--and use the blue circular handles that appear to resize it proportionally (pixel dimensions appear next to your finger as you drag).