Rooftop solar electricity on pace to beat coal, oil
States that allow utilities to place fees on solar power users will make it less competitive.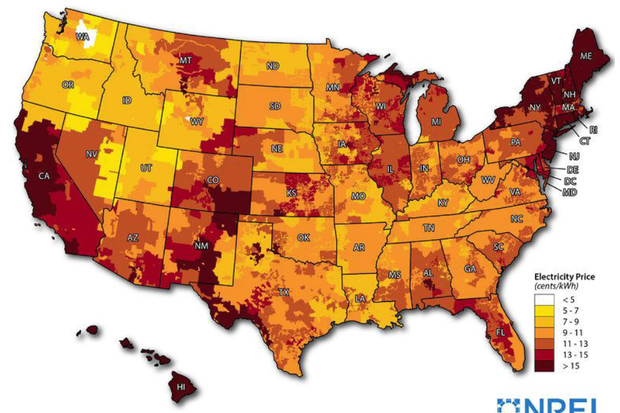 The price per kilowatt hour of electricity in the U.S. Credit: National Renewable Energy Laboratory
The cost of rooftop solar-powered electricity will be on par with prices for common coal or oil-powered generation in just two years -- and the technology to produce it will only get cheaper.
The prediction, made by Deutsche Bank's leading solar industry analyst, Vishal Shah, is part of a report on Vivint Solar, the nation's second-biggest solar panel installer. Shah believes Vivint Solar is doing so well that it will double its sales each year for the next two years.
The sharp decline in solar energy costs is the result of increased economies of scale leading to cheaper photovoltaic panels, new leasing models and declining installation costs.
Today, only 10 states boast solar energy costs that are on par with those of conventional electricity generation methods, such as coal-fired power plants. Those states include Arizona, California, Connecticut, Hawaii, Nevada, New Hampshire, New Jersey, New York, New Mexico and Vermont.
Last year, those states using solar power accounted about 90% of U.S. installations. But, by 2016, Deutsche expects solar energy to reach price parity in all 50 states.
For example, the cost of solar-generated electricity in the top 10 states for capacity ranges from 11-15 cents per kilowatt hour (c/kWh), compared to the retail electricity price of 11-37 c/kWh. In those states, there is currently about 6 gigawatts (GW or billion watts) of solar electricity installed. However, with the price of solar panels dropping, new solar leasing programs and the availability of low-cost financing, Deutsche expects an installed capacity growth of about 400% to 500% over the next three to four years.
Currently, the U.S. has 16GW of installed solar capacity, with nearly 5GW of solar capacity was added last year alone, according to Deutsche.
One of the factors spurring growth is the expiration of the federal government's solar investment tax credit (ITC). That measure, passed in 2008, offered a 30% tax credit for residential and business installations. When it expires in 2016, the tax credit will drop to a more permanent 10%.
"Consequently, we expect to see a big rush of new installations ahead of the 2016 ITC expiration," Shah stated in his research document.
At the same time, Deutsche Bank believes the cost to finance solar installations will also drop from 7.9% today to about 5.4% next year. Financing for installations is expected to stabilize at around 6.5% by 2019.
Amit Ronen, director of George Washington University's Solar Institute, authored the ITC legislation in 2008. Along with the ITC law, one of the driving forces behind adoption of solar power and the ensuing reduction of costs, he said, has been the U.S. Department of Energy (DOE) SunShot Initiative, which helps fund research, manufacturing and market creation. SunShot has a goal for solar energy to reach price parity with conventional power sources by 2020.