Samsung Galaxy Gear: Meet the smartwatch that simply tries too hard
Is Samsung making a serious run at the smartwatch market, or is the Gear just a clumsy experiment?
Damn my infernal pants pockets. The salesmen at the store said they would be useful for storing small personal items—car keys, loose change, lint—but he didn't warn me that they'd be a crappy place to keep my smartphone. Somehow, some way, whenever I need my phone the most, it's lodged deep in my front pocket, entrenched and inaccessible.
Sound familiar? Indeed. So a smartwatch like the Samsung's Galaxy Gear would seem to solve a lot of problems. In theory, it puts a bunch of critical smartphone functions directly on your wrist, saving you the trouble of extricating your phone from your pocket to make a phone call, snap a photo, or run a few apps.
Well, that's the promise at least. In practice, the Galaxy Gear hints and teases at what a great smartwatch could be, but never really nails any single function. It's packed with potential, and even includes support for third-party apps. But it's a challenge to use at nearly every turn, and at $300, it feels like an expensive experiment.
Niche, nerdy, and not so cute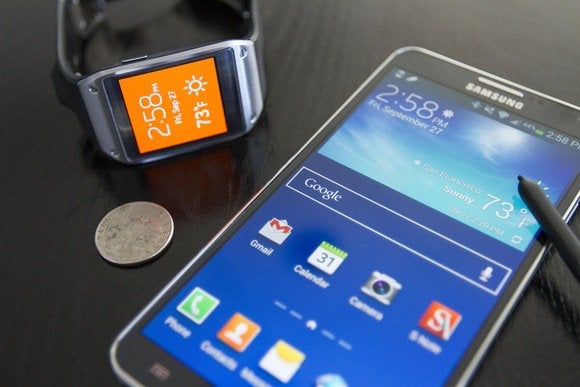 At launch, the only smartphone that works with the Gear is Samsung's own Galaxy Note III.
The Gear is not a standalone product—it requires a Bluetooth connection with your smartphone to execute almost all tasks. And it doesn't just work with any old smartphone. At launch, the Gear only works with a single phone, the philosophically polarizing, 5.7-inch behemoth that is the Samsung Galaxy Note 3 (though conventional wisdom says support for Samsung's S III, S4 and Note 2 is coming).
Still interested? Then take a good, long look at the Gear's design, and ask yourself if this watch is anything you'd wear throughout the day. The watch fits my wrist just fine, and I personally find its styling to be inoffensive, if a bit techy-cheesy. But the consensus among women isn't so generous.
First, the Gear is apparently too big for many women's wrists. Second, more than half of the women I polled found it a fashion faux pas. Vintage analog men's watches can make "cute accessories," but Samsung's interpretation is a different thing entirely, it turns out. "It looks like a prop from Battlestar Galactica," said one of my female friends. And don't even think about switching the band, as Samsung's band includes the Gear's 1.9-megapixel camera, an integral part of the watch's feature set.
The bottom line is that anyone interested in the Gear must be sympatico with an extremely niche smartphone, and have man-sized wrists and a high threshold for shiny brushed metal. Still with me? Then let's continue.