Samsung Galaxy Gear: Meet the smartwatch that simply tries too hard
Is Samsung making a serious run at the smartwatch market, or is the Gear just a clumsy experiment?
This clock will likely be a popular choice, as most programs are otherwise buried in the Gear's Apps menu, and require excessive menu navigation to reach. And that's a general problem across the entire Gear experience: The display is so small, there isn't much screen real estate for user interface elements, be they effective or clumsy. So you end up swiping through multiple menus, doing your best to remember whether features are hidden on the watch or in your phone's Gear Manager. The experience is riddled with logic loops, but that's what you get when you try to stuff a modern mobile UI into the footprint of a large postage stamp.
Thankfully, accessing two key features couldn't be easier. Swipe down on the home screen, and you'll drop straight into the camera app. Swipe up, and you'll go to the phone dialer. It's these two functions that speak to the potential of what a better smartwatch might look like.
Can you hear me, S Voice? Hello?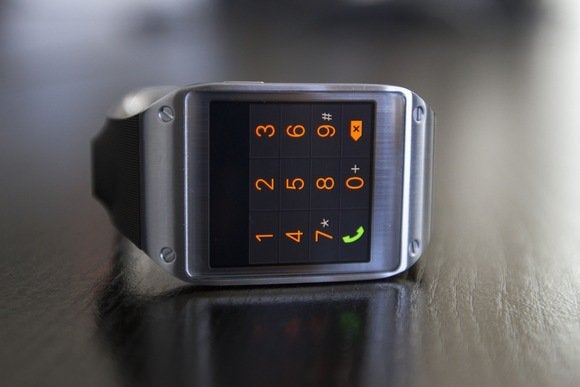 IMAGE: MIKE HOMNICK. Behold the phone dialer you use if S Voice fails you.
Because the Gear has a speaker, noise-cancelling mics, and Samsung's S Voice feature, it goes a step beyond the functionality of smartwatches from Pebble and Sony. When one of your contacts calls your phone (well, your giant-sized Galaxy Note 3 phablet), a notification appears on the Gear, showing the face and name of the person who called. You can accept the call with a swipe gesture, and then begin talking directly into the watch.
The phone function should be a game-changer, but poor sound quality taints the experience. The speaker can't cut through the din of even marginally noisy environments, and when volume is maxed out, the speaker gets buzzy with distortion.
Making a call is also a challenge: S Voice enables a semblance of hands-free dialing, but it's not full-proof. I have S Voice pinned as a home screen shortcut, so invoking the feature entails just a single finger tap (double-pressing the home button will also activate S Voice). From there, you wait for the microphone icon to turn blue, then utter, for example, "Call Christopher Walken." If you have Christopher Walken in your phone's contact list, then you're off to the races, enjoying a rewarding phone conversation about how much you both love hot dogs.
Well, that's how it's supposed to work. Oftentimes, S Voice couldn't understand me, exposing the digital assistant's struggles with difficult, multi-syllable names, and windy, noisy environments. I found myself constantly repeating my words, re-engaging S Voice, waiting for confirmations, and back-navigating to earlier menus. When it worked, I loved it. When it didn't work, I found hands-free watch dialing more frustrating than just using my phone.
Previous Page 1 2 3 4 5 Next Page