Samsung Gear Fit review: A dazzling wrist wearable with serious software deficits
Samsung has taken a big step forward in its wearables effort--if only in its philosophy of what a wrist gadget should be.
You can choose from a large selection of clock faces and background themes, and even quickly create your own background from a photo on your Samsung Galaxy device. Yes, you'll need hardware pairing to set up the Gear Fit and use some of its features. But at least 17 Samsung phones and tablets are supported, granting a generous degree of compatibility relative to last year's Galaxy Gear, which launched with only a single smartphone in its friends list.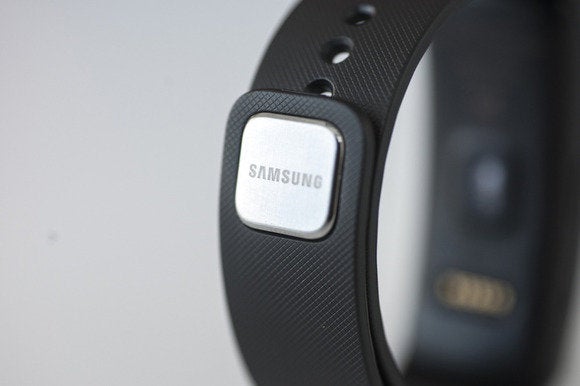 IMAGE: MICHAEL HOMNICK. The rubber strap is comfortable and relatively easy to attach.
The Fit can be removed from its rubber strap and inserted in different-colored bands sold separately. The apparatus uses the same pin-based fastening system as the Fitbit Force, but it's much easier to lock down--and, of course, the Gear Fit hasn't been recalled for strap problems. While typing on a desktop keyboard, I found the low-profile strap as innocuous as my various wristwatch bands. Samsung's user manual PDF recommends it be worn "comfortably" above the wrist so that the heart rate sensor makes proper contact with your skin. The device also includes an accelerometer and gyroscope to gather movement data.
In theory, you can wake the display by raising your arm and turning your wrist (as if to look at the screen), but this function was inconsistent and depends on careful body positioning. The upshot is that if you want to use the Gear Fit as a wristwatch--you know, a device that tells the time--you'll have to be comfortable with frequently pressing the power button.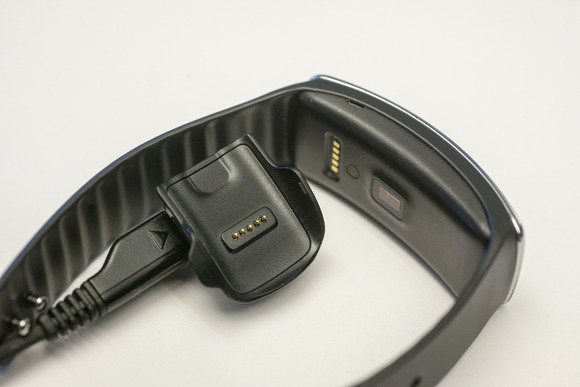 IMAGE: MICHAEL HOMNICK. Unfortunately the Gear Fit requires a propreitary charging cradle to top off its juice.
Samsung's Super AMOLED display technology is relatively energy-efficient, but I still only achieved little more than a day's worth of use before receiving battery warning alerts at a 15 percent charge. Somehow, Samsung claims three to four days of use between charges. Granted, I was waking up the Gear Fit frequently during the rigors of product testing.
But even if I experienced double the battery life of my testing regimen, two days is still a short cycle--activity trackers from Basis, Jawbone and Fitbit grant between five and 10 days on a single charge. And, no, the Gear Fit can't be charged with a simple USB connection. It requires a proprietary cradle. And it's not like those ever get lost.
Congratulate me for my 3-minute mile
Hey, it's called the Gear Fit. So it should be a great exercise tracker, right? It isn't. Throughout three solid days of testing, I continually logged exercise data that just plain didn't make sense.
Previous Page 1 2 3 4 5 6 Next Page