Samsung Gear Fit review: A dazzling wrist wearable with serious software deficits
Samsung has taken a big step forward in its wearables effort--if only in its philosophy of what a wrist gadget should be.
The Gear Fit includes six basic fitness functions. A heart rate monitor can log your ticker's beats per minute, both while sitting still and in the service of monitoring various exercise goals. A pedometer function records how many steps you take each day. Then there are four specific exercise modes--running, walking, cycling, hiking--that provide coaching for those activities, and record key workout data, such as exercise duration, distance covered, and calories burned.

IMAGE: MICHAEL HOMNICK. Here's an example of what seems to be an accurately recorded exercise session-in this case, a 36-minute walk.
To test the hiking function, I set the Gear Fit to record my trek up and down Mount Davidson, a two-mile constitutional I take at least once a week. All the exercise modes include a goal feature, so I set the Gear Fit to give me mad digital props at the 30-minute mark--easily achieved for what is never more than a 50-minute round-trip hike.
Well, as you can see from the photograph below, I must be a really fast hiker, as I covered almost 16 miles and burned nearly 1700 calories during my 45-minute workout. Yeah, I broke a three-minute mile--while hiking. The Gear Fit also showed I hit a maximum altitude of 1115 feet, even though Mount Davidson summits at 928 feet.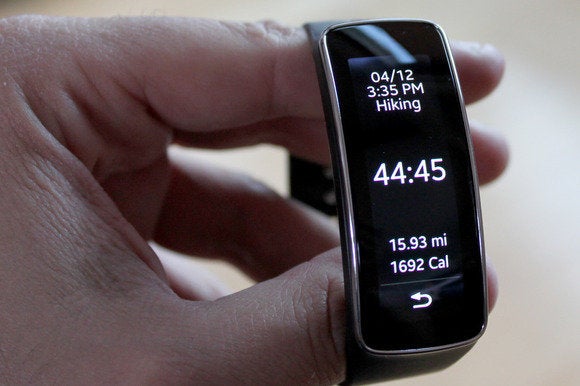 IMAGE: JON PHILLIPS. And here's an example of laughably inaccurate exercise logging. There's no way I'm capable of a three-minute mile-let alone while hiking.
That was the most egregious example of inaccurate data logging, and in Samsung's defense, the exact same hike the very next day was recorded as 2.14 miles traveled and 212 calories burned during a 47-minute workout. But throughout my three days of testing I also experienced inaccurate pedometer logging--and pedometer logging is table stakes for any fit-tech wristband.
To wit: Wearing a Jawbone UP24 and Gear Fit on the very same wrist for the exact same waking hours, I recorded the following step counts. Thursday: 6255 for the UP24; 8494 for Gear Fit. Friday: 5835 for UP24; 7791 for Gear Fit. Saturday: 11,816 for UP24; 13,226 for Gear Fit. It would appear the Gear Fit is a wildly generous step counter, inflating its reports anywhere between 12 to 33 percent.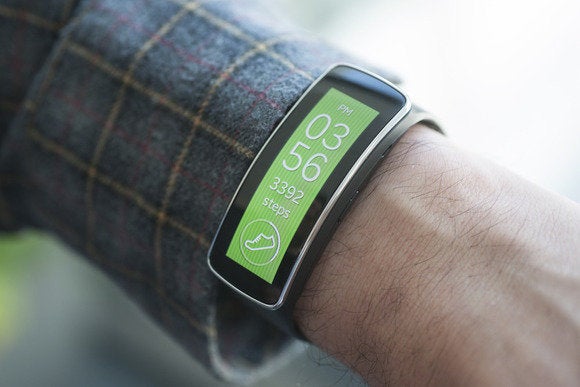 IMAGE: MICHAEL HOMNICKThree days into using the Gear Fit, I had serious concerns about its inflated step counts.
Of course, the UP24 could be the inaccurate device in this comparison. And it's important to note that none of the activity tracker manufacturers publish peer-reviewed data of their hardware accuracy. But when I've tested the UP24 against a FitBit Flex and Basis B1 band, all three devices have scored within about 200 to 300 steps of each other on days exceeding 10,000 steps. My takeaway? The Gear Fit needs its algorithms checked.
Previous Page 1 2 3 4 5 6 Next Page