Samsung Gear Fit review: A dazzling wrist wearable with serious software deficits
Samsung has taken a big step forward in its wearables effort--if only in its philosophy of what a wrist gadget should be.
Unclear explanations of an opaque UI
Putting data accuracy aside, the Gear Fit's exercise features just aren't very easy to use. For starters, you have to manually engage the pedometer function each morning when you wake. Forget to do so, and your precious footsteps will never be recorded.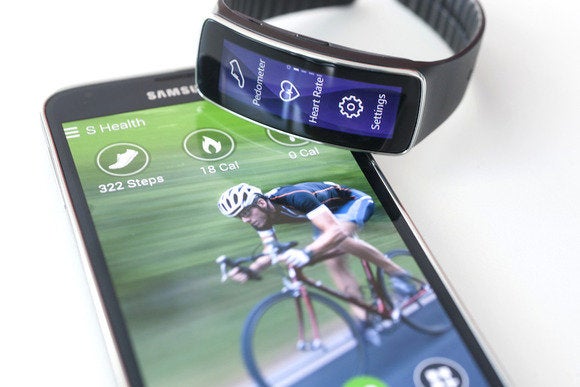 IMAGE: MICHAEL HOMNICK. The S Health app looks pretty, but is confusing to navigate and doesn't adequately explain how it merges data with the Gear Fit.
Then there's the issue of basic feature transparency: The Gear Fit includes a lot of specific exercise functions, but none of them are explained very well. The interface menus on the Fit itself reveal almost nothing about how features work or how to use them. You can learn a bit in the Help menu of the Gear Fit Manager smartphone app, but even this is woefully opaque. And all the functions are still under-explained in the actual user manual.
For example, how exactly does the exercise coaching function work? During a treadmill jog, coaching prompts on the Gear Fit instructed me to "keep up this pace" one moment, and then "slow down" just seconds later--repeatedly, ad nauseam, even though I wasn't demonstrably changing my pace.
And during the middle of a treadmill jog, the Gear Fit displayed "TE 2.5" when I hit a certain goal. What does this mean? If it's explained in either the Gear Fit Manager or user manual, I couldn't find a reference.
The accompanying S Health smartphone app that syncs Gear Fit data to your handset is also opaque. It took forever for me to find the key menu setting that tells S Health to shows Gear Fit pedometer data rather than data collected by my Galaxy phone. Overall, S Health has way too many features that are nested in layers of menus that are never sufficiently explained.
Monitor your heart rate--but to what end?
Finally, the optical heart rate monitor: It's a curious addition, but I had trouble sussing out its usefulness, and its accuracy is also a question mark.
Its primary application, it seems, is to measure your resting heart rate when you're sitting motionless. The American Heart Association says a normal resting heart rate is between 60 and 100 beats per minutes, and the Gear Fit usually recorded mine between 80 and 85 bpm, which is consistent with numbers I've seen from a calibrated blood pressure monitor. It's an interesting little feature, but I don't see the resting heart rate function as a killer app worthy of headlining a $200 wrist gadget.
But the heart rate monitor also keys into various active exercise features. For example, during a monitored hike, you can watch your heart rate data change in real-time, and at the end of your trek, you can dig into a History menu to see your average beats per minute. Should these numbers even be exposed? Probably not. Because they're likely inaccurate.
Previous Page 1 2 3 4 5 6 Next Page