Samsung Gear Fit review: A dazzling wrist wearable with serious software deficits
Samsung has taken a big step forward in its wearables effort--if only in its philosophy of what a wrist gadget should be.
To wit: During a hike, I saw my heart rate jump from 108 to a ridiculous 162 over the course of 15 seconds. It's important to note that even the Gear Fit user manual makes frequent mention of how heart rate numbers can be inaccurate under various conditions. But here's the most telling advisory: "Take heart rate measurements when you are seated and relaxed." If this is the case, then why even allow real-time heart rate reports during walking, running, cycling and hiking?
Then there's this bizarre user manual statement--the second sentence conflicts with the first: "For a more accurate heart rate measurement, measure your heart rate when your body is not moving. Use the exercise feature to measure your heart rate during exercise."
Come again? It's weirdness like this that make me feel the Gear Fit is a better smartwatch than exercise tracker.
Simple notifications are good notifications
I've just spent the better part of this review beating up on the Gear Fit for its exercise functions. But if you disentangle all the fitness features from the wristband's repertoire, you get a nice smartwatch that generally works as advertised.
The Gear Fit provides notifications for phone calls, text messages, email and other applications emanating from your Galaxy phone. You feel a faint buzz on your wrist, and a notification pops up on the Fit's display. I never once experienced problems with Bluetooth pairing, and the notifications function proved quick and reliable.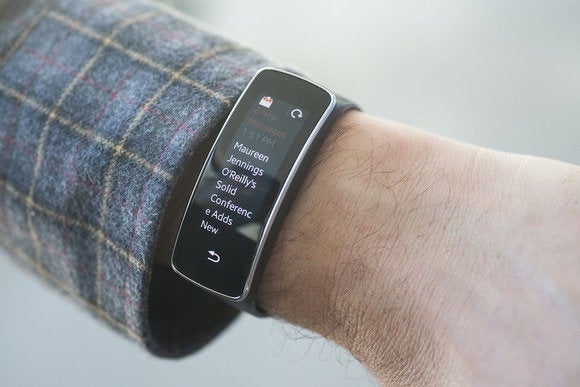 IMAGE: MICHAEL HOMNICK. Reading Gmail notifications on your wrist is damn nifty. Just make sure to set both the display andnotifications toward a vertical orientation.
You can read the entire text of an email message, and reply to texts and phone calls with simple, pre-formatted replies. (There's no onscreen keyboard, so these replies will have to suffice.) You can't fine-tune notifications to any helpful degree--like, say, defining a white-list of contacts whose messages are allowed to break through--but other smartwatches don't allow granular control either. At least not without third-party apps.
The Gear Fit also includes a Media Controller to adjust volume and advance music tracks on your smartphone (it works great); Stopwatch and Timer apps (yep, they work too); and a Find My Device function to locate smartphones within Bluetooth range (check-a-rooney). The one "extra" app that really let me down is the Sleep function.
Relative to other accelerometer-based activity trackers, its sleep data is bare-bones to the point of absurdity. You set sleep tracking to start before going to bed, and then hit stop when you wake. From there, it literally reports the time between the two button pushes, along with the percentage of that time when your body was motionless.
Previous Page 1 2 3 4 5 6 Next Page